FUV's New Dig: Brandi Carlile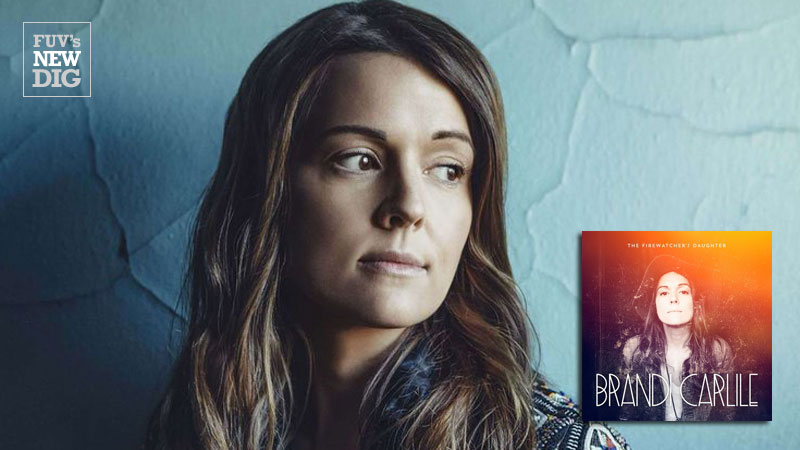 The Firewatcher's Daughter
Brandi Carlile
ATO Records
Brandi Carlile might be approaching the tenth anniversary of her self-titled debut album, but her fifth and latest studio effort, The Firewatcher's Daughter, shows this ambitious singer and songwriter's ongoing evolution as an artist and a person. Over the past three years, since the release of 2012's Bear Creek, Carlile has gotten married (her wife, Catherine Shepherd, is a former charity coordinator for Paul McCartney) and the couple became parents last year. Carlile's longtime bandmates and collaborators Tim and Phil Hanseroth—aka "The Twins"—have also started their own families. This strong sense of family has deeply influenced The Firewatcher's Daughter, a collection of songs dwelling on ideas of home and companionship.
"Wherever Is Your Heart" opens the album with a declaration that serves as the motif of the entire record: "Wherever is your heart I call home." The track "Beginning To Feel The Years," sung at Carlile's own wedding by the Hanseroth brothers, touches on growing older and wiser with a loved one at your side, watching hard times recede into the past and out of sight. "I'm beginning to feel the years, but I'm going to be okay," sings Carlile in this touching song, "as long as you're beside me along the way."
Similar loyal sentiments are echoed in "I Belong To You," with Carlile vowing "I'm gonna die the exact same day as you," and in the powerful "Blood Muscle Skin And Bone," which was written by Phil Hanseroth and features Pearl Jam's Mike McCready on guitar. Tim Hanseroth's composition, the acoustic "Wilder (We're Chained)," was inspired by his son Wilder and fits snugly in this mix, touching on the bonds of family from the perspective of a parent to a child.
The Firewatcher's Daughter balances softer ballads, like "Heroes And Songs," with dense rockers. Carlile lets loose vocally on the grungy "Mainstream Kid," which sarcastically deals with one's place in society's mainstream. "The Stranger At My Door" sounds like a long lost Johnny Cash song. Finally, a cover of the Avett Brothers' "Murder In The City" makes a surprising appearance, closing out the album.
The Firewatcher's Daughter is a strong, confident, and mature work by an artist who has already come into her own in some respects, but has embarked on another life journey, now reflected in her songwriting. With boldness and assurance, Brandi Carlile shows us these beautiful and beguiling changes that have enriched her life.
More:
Brandi Carlile—Words & Music—2012
Brandi Carlile—Words & Music—2010
Brandi Carlile—Words & Music—2007
 
Preview songs and/or buy 'em (all purchases benefit WFUV):