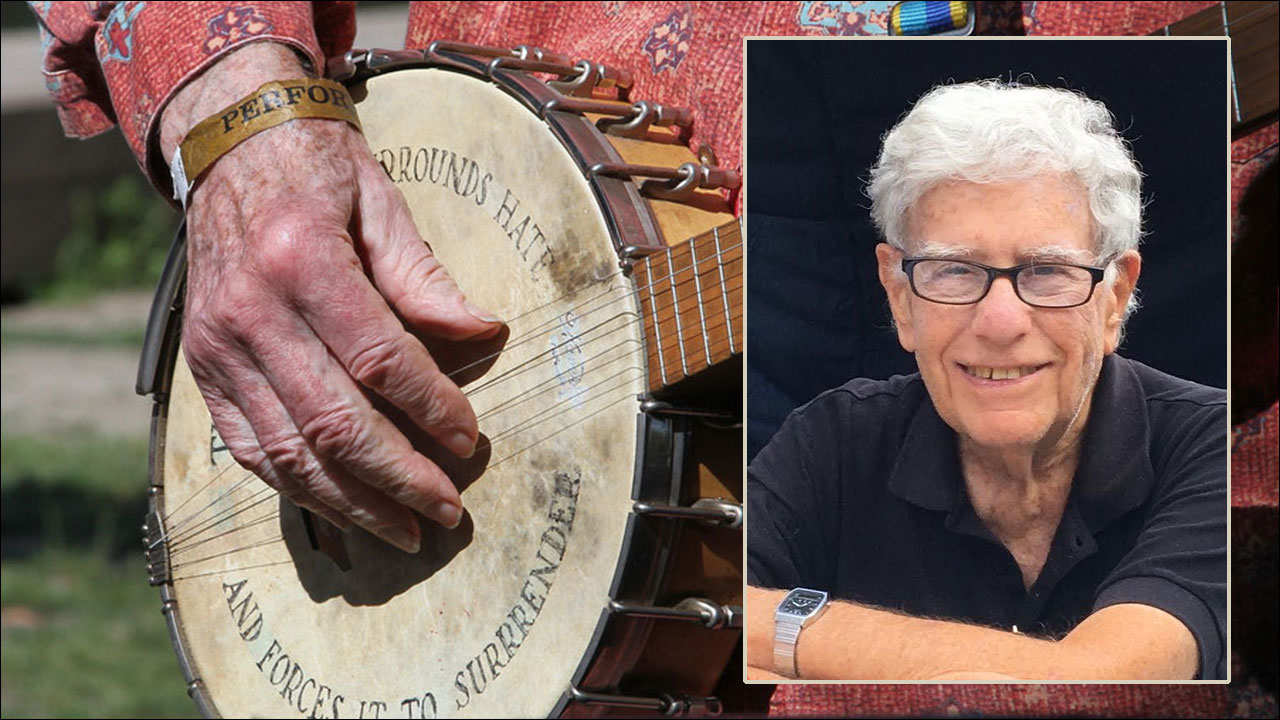 Listen to Bob Sherman's final Woody's Children shows above, from 1/22/23 and 1/29/23, respectively.

WFUV's friend and compadre Bob Sherman, the much-loved host of "Woody's Children," passed away on Tuesday, June 27, at the age of 90. As first announced by WQXR, where Bob worked for over 70 years, Bob passed away peacefully at home, surrounded by his family. His final show for WQXR, a last "Young Artists Showcase," aired earlier this month upon announcement of his retirement there after facing mounting health challenges.
"He was New York radio's gentlest soul," says Chuck Singleton, FUV's general manager. "He cared so much about musicians."
All of us at WFUV send our deepest condolences and love to Bob's friends, family, work colleagues, and devoted listeners. More programming will be announced in the week ahead to honor Bob's important legacy in music and radio.
"Woody's Children," Bob's influential contemporary and historic folk show, aired nearly 24 years on WFUV — and prior to that, over 30 years on WQXR. His final two episodes of "Woody's Children" on WFUV aired on Sunday, January 22, and Sunday, January 29, 2023.
Sherman, who joined FUV in the fall of 1999 with "Woody's Children," cited health challenges and the demands of a weekly program as determining his decision to bring his longtime show to a close.
"It's been a great run — 54 years!" said Sherman at the time of the "Woody's Children" finale. "I'll miss doing the program, but I'm delighted that the spirit of 'Woody's Children' will live on."
The former program director of WQXR and a senior consultant there, Sherman's 60-year career at the classical music station also includes hosting the "Young Artists Showcase," "The Listening Room," and, for 30 years, Lincoln Center presentations of the annual Avery Fisher Career Grants.
Sherman's award-winning "Woody's Children" began at WQXR in 1969 before making a segue to WFUV, where the program became a cornerstone of the station's "City Folk" years. Over the more than five-decade run of "Woody's Children," Bob has interviewed and played the songs of hundreds of artists, including Pete Seeger (his very first guest in 1969), Judy Collins, Peter, Paul & Mary, Odetta, Tom Paxton, Oscar Brand, Reggie Harris, and Tom Chapin. Sherman's advocacy for emerging voices gave early boosts to artists such as Christine Lavin, John Gorka, and Julie Gold. There's a thematic structure that guides every show, from the legacy of fellow nonagenarian Harry Belafonte to songs of "rage and remembrance," reflecting the mutable tides of American history and progress over decades — after all, the iconic Woody Guthrie inspired the program's name (at Seeger's suggestion). "There's a continuity, not just a random grouping of songs," said Sherman when he joined FUV. "The songs have to have import, logic, and something to say."
FUV Program Director Rich McLaughlin sees Sherman's import on multiple generations as especially meaningful. "While Bob's 'Woody's Children' has reached its conclusion, its impact and influence will endure," says McLaughlin. "Bob is truly one of a kind. We're all grateful for his remarkable contributions to radio, the folk music community, and WFUV. As Pete Seeger once said, 'We're all Woody's Children.' After nearly 55 years on the radio dial, 'Woody' is as much Sherman as he is Guthrie."
McLaughlin also touched on Bob's indelible legacy in the New York Times's obituary.
In addition to an award-winning broadcast career on radio, Sherman had been a music critic and columnist for The New York Times and was the author of many books, including The Smart Guide to Classical Music and two books with the comedian and pianist Victor Borge, My Favorite Intermissions and My Favorite Comedies in Music. He also cowrote a pictorial biography about his mother, the acclaimed Lithuanian-born classical pianist Nadia Reisenberg, and wrote about his aunt, the thereminist Clara Rockmore.
Sherman hosted programs on PBS ("Vibrations") and CBS ("Camera Three") and served on the graduate faculty of The Juilliard School for over 20 years.