FUV Essentials: Dennis Elsas on Bob Dylan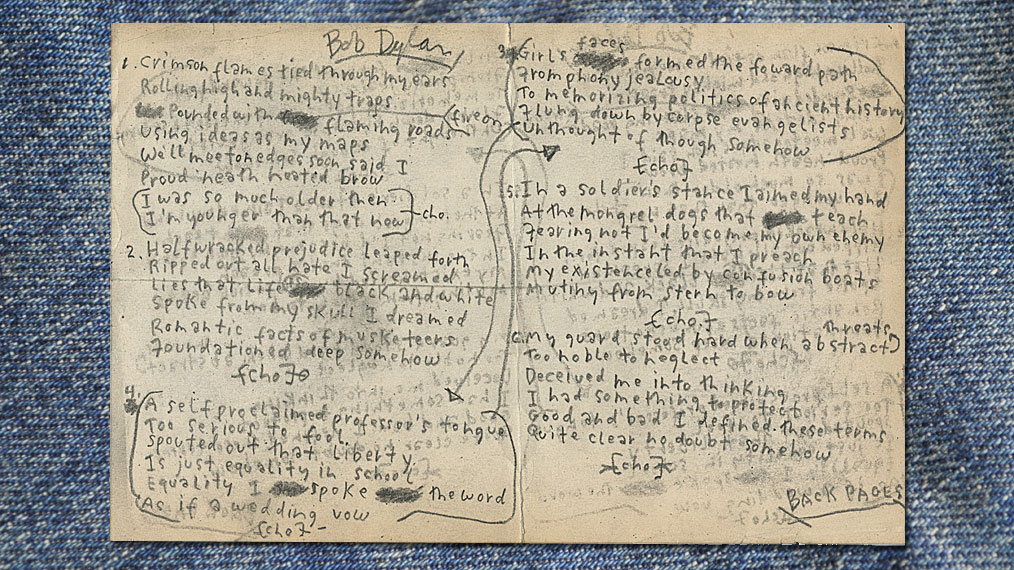 I think it was Peter Paul and Mary and their version of "Blowing in the Wind' that introduced me to the music of Bob Dylan, although I really didn't know who he was at the time. A few years later it was the Turtles' hit recording of "It Ain't Me Babe" and the Byrds' "Mr. Tambourine Man' that were Dylan compositions jangling out of my AM radio.
But it wasn't till the summer of 1965, when Dylan's new song "Like a Rolling Stone" was released, that I really paid attention; as Bruce Springsteen recalled when he inducted Bob into the Rock and Roll of Fame, "on came that snare shot that sounded like somebody kicked open the door to your mind." Listening to the sounds of early FM radio and a disc jockey named Rosko playing Richie Havens' version of "Just Like a Woman" pulled me into Blonde on Blonde. Next it was a clever college professor who had me interpreting lyrics from John Wesley Harding and mixing them into my first audio collage.  By the '70s, just a few weeks into my own NY radio career, I was in the audience at Madison Square Garden when George Harrison surprised us as he brought on stage "a friend of us all, Mr. Bob Dylan."
I never got to interview Dylan one on one, but I do remember very well a sit-down discussion that his record company somehow convinced him to do with me and my fellow WNEW-FM DJs in his dressing room at the Nassau Coliseum in 1978. It was around the release of the Street Legal album and I think Columbia Records was trying to stimulate airplay. I'm still amazed that he agreed to do it and sorry there's no photo or audio to document it.
There have been a lot of albums and tours since then. Not surprisingly, I liked some more than others, but I was always curious knowing what direction he might be heading and "which way the wind blows." I was quite surprised when he and his song "Love Sick" showed up in a Victoria's Secret commercial in 2004, but amused more recently when he appeared talking with a computer about songwriting in an IBM Watson ad. I loved seeing him a few years ago in concert when he reopened the Capitol Theatre in Portchester, NY. He actually looked as happy to be there as we were to see him. However, while I respect his desire to cover Sinatra-type standards on his latest albums, they won't be in heavy rotation on my personal playlist.
Bob Dylan told us a long time ago, "The times they are a changing." Exactly how diverse those changes might be, none of us (including him) could have imagined. But it's the enduring ambiguity of the lyrics in "My Back Pages" that still fascinates me the most. I'm still not exactly sure what he meant when in 1964 he wrote, "I was so much older then/I'm younger than that now," but it always makes me smile when I play it on the radio.