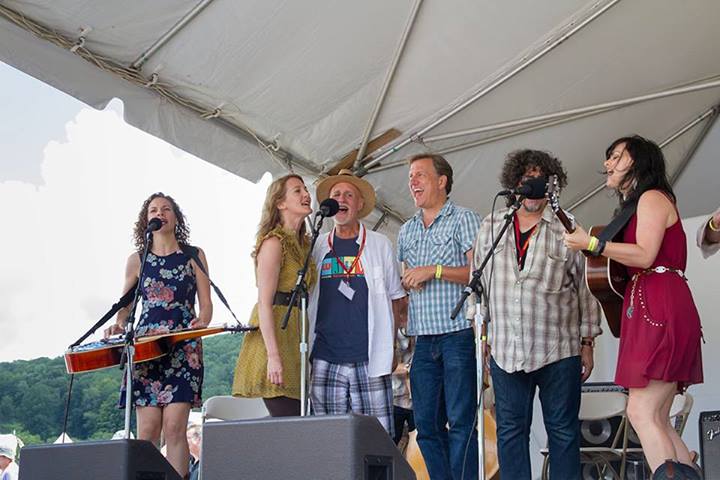 Falcon Ridge isn't Newport. That's both a blessing and a curse. Where the Newport Folk Festival sells out 10,000 tickets instantly, the Falcon Ridge Folk Festival draws maybe a third of that. Where Newport attracts headliners like Beck, Jim James of My Morning Jacket, and Trombone Shorty, Falcon Ridge's headliners are the likes of Dar Williams, Ellis Paul, and Susan Werner. In the last few years Newport has booked hot young bands like The Lumineers, The Avett Brothers, and David Wax Museum, while Falcon Ridge has missed the boat on them. That being said, Falcon Ridge has its own strengths and traditions, and the 25 anniversary festival, held last weekend at Dodds Farm in Hillsdale, NY, showed off many of them.
The organizers of the Falcon Ridge, Anne Saunders and Howard Randall, made the smart decision to move the festival back to the first weekend of August this year to avoid going head-to-head with Newport. While there were a couple of rainstorms, there was nothing of biblical proportions (as there usually is), so the weather gods were pretty kind. Anne chose to bring back many longtime Falcon Ridge faves to celebrate the anniversary, and they did some great sets. A steady rain on Friday night couldn't dampen Dar's set, one of the best I've ever heard her do.  And the traditional Friday night song swap - with Vance Gilbert, Susan Werner, Ellis Paul, and Mary Gauthier - was brilliant in its music-making and camaraderie.
Both Mary and Susan Werner returned for full sets on Saturday, with Mary getting brilliant backup from accordion and keyboard player Radoslov Lorkovic and Susan from ace guitarist Jim Henry. Eliza Gilkyson borrowed Jim Henry for her set on Saturday night and also called up Laurie MacAllister and Abbie Gardner of Red Molly for backing vocals on "Slouching Toward Bethlehem." After the set, I told Laurie and Abbie how great that sounded, and as I sang a little of the chorus, Laurie exclaimed, "Hey, you can sing!" I replied that you could say I had a "nice voice," and that I was OK as long as I was standing next to someone with good pitch. That prompted Laurie to ask if I'd join them on a song the next morning.
The Sunday Morning Gospel Wake Up Call is another treasured Falcon Ridge tradition, which I've been honored to host for about a dozen years. This year's, featuring The Kennedys, Vance Gilbert, and Mike Ford & Dave Matheson of Moxy Fruvous fame, along with Red Molly, was generally considered one of the best, despite my Falcon Ridge singing debut on Abbie's song, "Lay Down Your Burden." (Singing between Laurie and Ellis Paul was definitely a bucket list moment, but I'm not about to give up my day job.) Ellis did his own set Sunday afternoon, proving that he's not only a master songwriter, but a master storyteller. Nerissa & Katryna Nields, making their 18th appearance at the festival, brought out  Amelia, the 12 year old daughter of Katryna and Nields bassist Dave Chalfant, to play with them, making them the First Family of Falcon Ridge. The final set belonged to Vance Gilbert, who'd already been part of five stages over the weekend (a virtual "Vance-apalooza"), and he proved again why he's one of the best performers on the planet, with a set that was both hilarious and heartfelt.
Falcon Ridge hasn't reached out to many hot young artists in recent years, but it does offer something other festivals in the Northeast don't - an emerging artists showcase. Every year on Friday afternoon two dozen artists (chosen from about 400 applicants!) each perform two songs. They audience votes on their favorites, and the top three Most Wanted get invited back the following year to perform on the main stage. (This year that honor went to a pair of trios from the New York area, Gathering Time and The Ya Yas, and Poor Old Shine, from Storrs, CT.) Some of my faves, including Tall Heights, Bobtown, Connor Garvey, the Brad Yoder Duo, and Roosevelt Dime, performed well this year. The new-to-me standouts included Darlingside (from Boston), Reverend TJ McGlinchey (from Philadelphia), and Noble Hunter (from Brooklyn).
A couple of true Falcon Ridge success stories are the New York-area groups Red Molly and Spuyten Duyvil. They started coming as fans (in Red Molly's case, actually forming at Falcon Ridge in 2004), were emerging artist winners, and have since come back multiple years for feature sets on the main stage. They showed this year why they're talents to be reckoned with in the world of Americana. And another up-and-coming string band, the Stray Birds, from Lancaster County PA, impressed a lot of folks in their Falcon Ridge debut. The point is, there are many more exciting artists out there equally ready to impress us.
Something else Falcon Ridge offers, unlike Newport, is a night life. Long after the last set each night, there's music on the hillside and around campfires. The jams among multiple musicians at Pesky J. Nixon's "Lounge Stage," Gordon Nash's "Budgiedome" and "The Pirate Camp" have become the stuff of legend. That spontaneity and community, fostered by the camping subculture, is part of what brings people back to Falcon Ridge year after year. (That and the diehards in the dance tent.) The question for Anne and Howard is, "Do you want to bring in new audiences?" If so, they need to consider some of the artists they're missing who would definitely fit at Falcon Ridge. If not, the true believers will continue to come and enjoy Falcon Ridge's unique charms and traditions, but at some point it becomes preaching to the choir, with a slowly shrinking audience. It would be a shame to have it disappear.