Elvis Costello and The Roots: Brooklyn Bowl 2013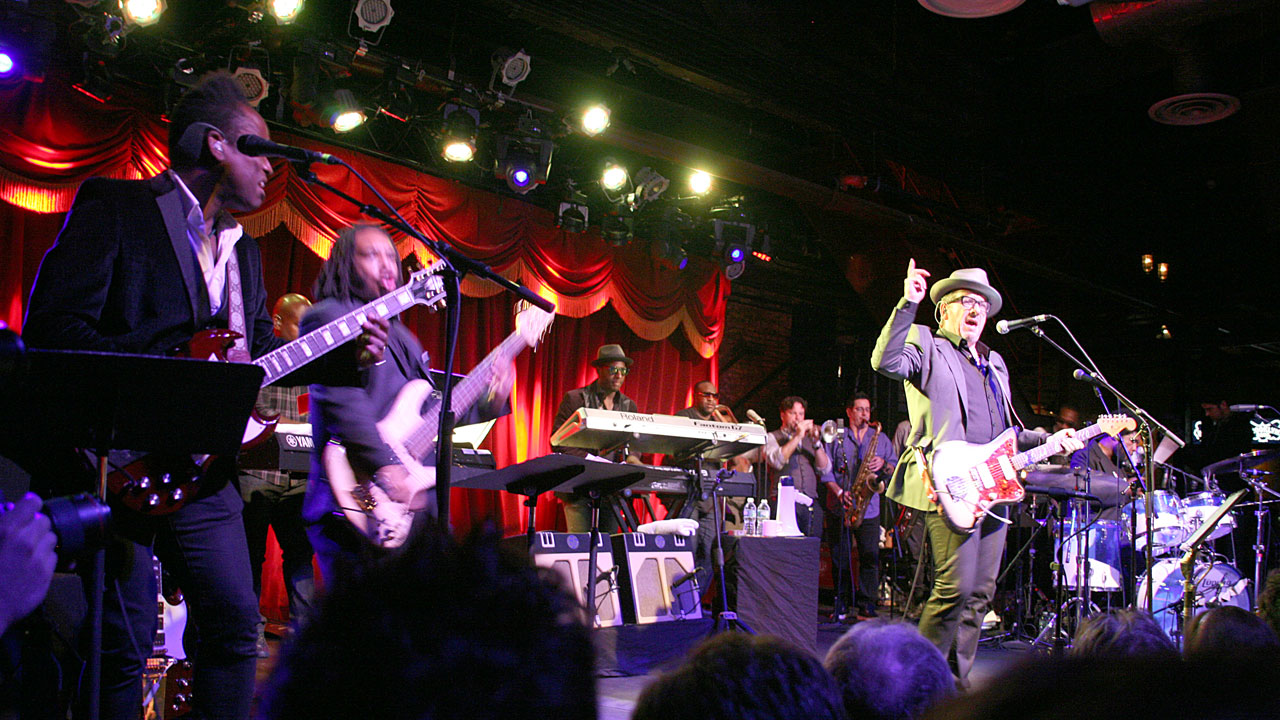 It was a packed house in Williamsburg for Elvis Costello and The Roots at Brooklyn Bowl. Over 600 fans of a wide range in age and style gathered at the hip music venue/restaurant/bowling alley. Some came for Elvis, some came for The Roots, and all came to witness a truly unique collaboration.
The idea for the pairing began 4 years ago when Jimmy Fallon was talking to The Roots about joining his late night show as house band. He mentioned the promise of working with different artists each night, and when Elvis' name came up in that context, a seed was planted with Ahmir '?uestLove' Thompson that eventually grew to be Wise Up Ghost, their new album.
The pairing sounds great on paper, and is even cooler in reality. It's not that The Roots made a rock record, nor is it Elvis' hip-hop album — that's the beauty of it. The songs have Elvis' lyrical depth and distinctive vocals surrounded by funky horns and driving rhythms. All were present at Brooklyn Bowl.
The set list drew heavily on the new album with some choice Elvis classics re-worked to suit the band's style. It's very interesting to see which Elvis songs fit this concept — generally the darker, odder songs. There was a bit of a reggae groove throughout the set, which came in to full bloom with an inspired cover of The Specials' "Ghost Town." What a treat. Here's the full set list:
Wake Me Up
Refuse To Be Saved
Stick Out Your Tongue
Watching The Detectives
Shabby Doll
Sugar Won't Work
Tripwire - with Diane Birch
Spooky Girlfriend - with La Marisoul
Cinco Minutos Con Vos - with La Marisoul
Ghost Town - with La Marisoul
(I Don't Want To Go To) Chelsea
Walk Us Uptown
I Want You
Wise Up Ghost
Pump It Up
I Found Out
Funding for WFUV's ongoing coverage of live concerts and festivals comes from The Agnes Varis Trust, supporting affordable access to the arts, education and healthcare.