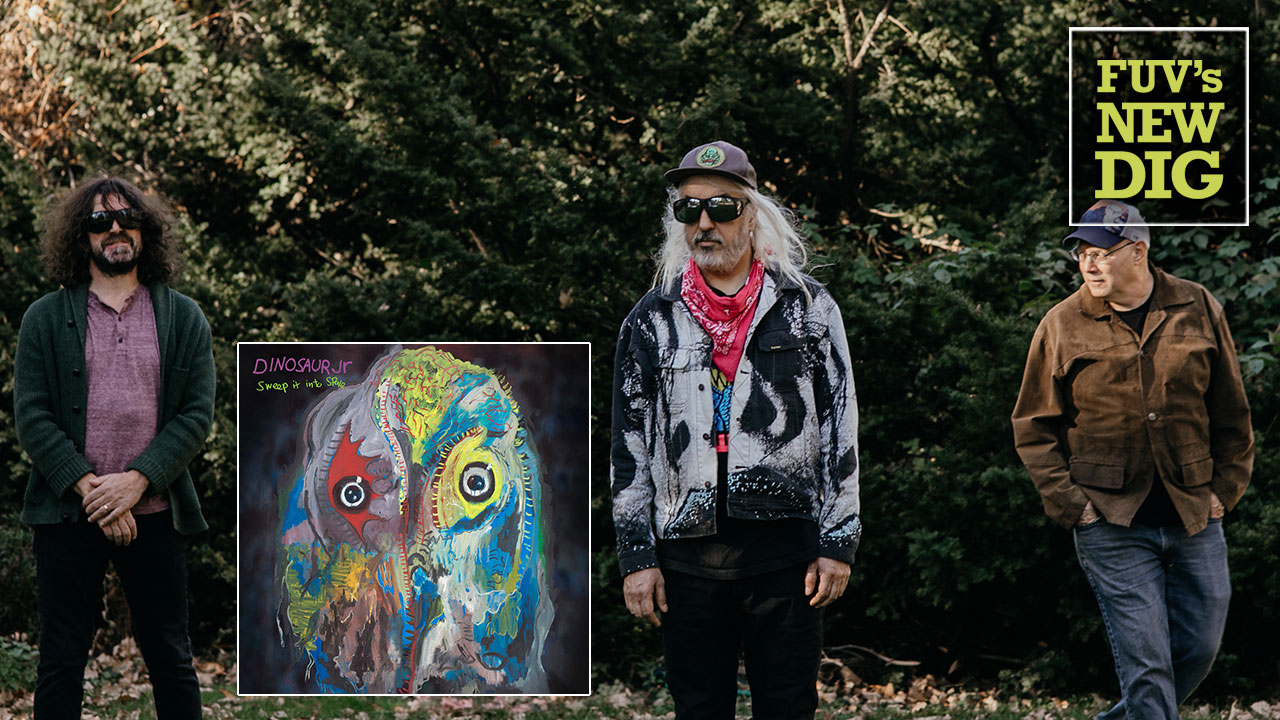 Dinosaur Jr.
Sweep It Into Space
Jagjaguwar
Why This Album Matters:
Sweep It Into Space is the latest chapter in the history of Dinosaur Jr., the iconic, highly influential Massachusetts alt-noise rock band with power pop leanings and among the top indie acts that dominated in the '90s. The band's new album is saturated with the signature sound of J Mascis's deadpan, drawled vocals and buzz saw guitar, reinforced by the contributions of bassist, vocalist and occasional songwriter Lou Barlow and, so says the band's bio, Murph's "pure-Flintstonian drumming." Joining Dinosaur Jr. on Sweep It Into Space is Kurt Vile, who co-produced the album and plays on some of the tracks.
In Their Own Words:
"Kurt [Vile] played little lead things, like twelve string one at the beginning of 'I Ran Away,'" said J Mascis of Vile's contributions. "Then I ended up just mimicking a few things he'd done." 
"Everyone seemed to want a disruption in the order of American life, it seemed necessary," said Lou Barlow, explaining his song, "Garden." "Then it happened. [The song] began as a bitter lamentation but as I was finishing the lyrics, singing over the instrumental version of the song while driving to J's through the miles of farmland that separate his studio in Amherst and my home in Greenfield, I saw a sign on a shed: 'Back to the Garden.' I was looking for a resolution, where do we go when faced with such dramatic confusion? Back to basics, back home, back to the garden."
Highlights:
"Garden," "Hide Another Round," "I Ain't," "I Ran Away," "Take It Back," and "To Be Waiting."
Why You Will Dig Dinosaur Jr.'s Sweep It Into Space:
As fans have come to expect from Dinosaur Jr. through the years, Sweep It Into Space is a melodically rich amalgam of power pop, stinging guitars, and rudimentary rhythms. The trio naturally blend roots and country with other, more aggressive styles, which gives their music a wholeness that keeps Dinosaur Jr. a vital act, even 36 years after arriving on the indie rock scene.
Recommended If You Like:
Pixies, solo Frank Black, Juliana Hatfield, Hüsker Dü and solo Bob Mould, The Lemonheads, Meat Puppets, Liz Phair, Foo Fighters, Sebadoh, and The Breeders.
FYI:
- Sweep It Into Space was originally planned for a 2020 release, but it was postponed due to the pandemic.
- It is Dinosaur Jr.'s first album in five years and their twelfth studio album overall. In addition, Sweep It Into Space is the fifth album following Dinosaur Jr's reunion, which marked the reformation of their classic lineup: J Mascis (vocals, guitar, main songwriter), Lou Barlow (bass, vocals) and Murph (drums). It's the eighth album from this trio.
- The album was recorded at Mascis's Bisquiteen Studio in Amherst, Massachusetts.