Death Cab For Cutie: Forest Hills Stadium 2019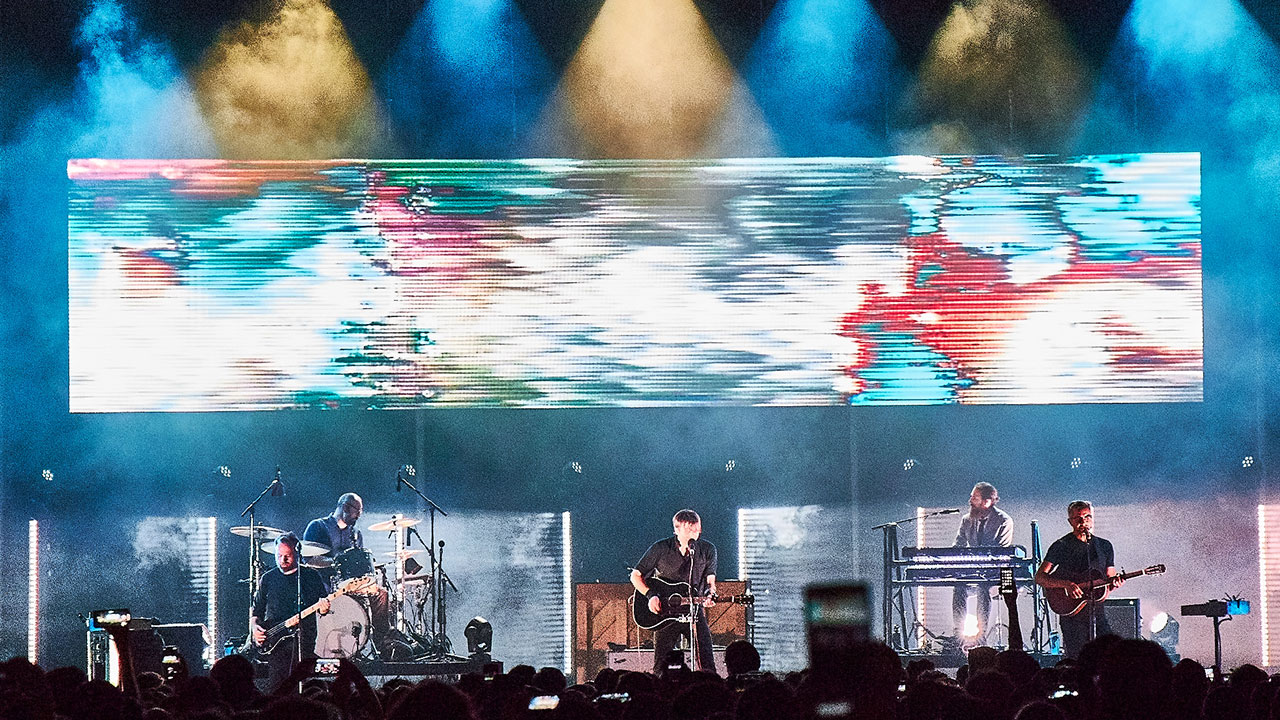 It was not quite sunset when Death Cab for Cutie's concert began at Forest Hills Stadium in Queens, as FUV's summer of live outdoor concerts – and broadcasts — continued on Saturday night, June 15. Jenny Lewis was the opener for the Washington-bred band on this balmy night, and the entire evening of music was broadcast live on FUV from the WFUV Clubhouse, with co-hosts Rita Houston and me. (Read about Lewis's riveting set here.)
Deep purple lighting and just enough mist from a fog machine gave Death Cab for Cutie a virtual curtain to emerge from backstage. Their all-black attire added to the eerie effect as the band — Ben Gibbard on lead vocals and guitar, bassist Nick Harmer, guitarist and keyboardist Dave Depper, keyboardist and guitarist Zac Rae and drummer Jason McGerr — opened with "The Ghosts of Beverly Drive" from 2015's Kintsugi.
Over the course of the next two hours, the band played songs from almost every one of their nine studio albums, their most recent being last year's Thank You for Today. It's a repertoire that ranges over 20 years for this band that formed in the Pacific Northwest.
Gibbard reminded the audience more than once that the band was "Death Cab for Cutie from Seattle, Washington" and his choirboy voice and boyish haircut still suit his 42 years. Clean living and a regimen of long-distance running have apparently given him all the stamina he needed to power through 19 songs before the encore.
Any breaks were few and far between, but at one point Gibbard described Death Cab's music, with tongue-in-cheek, as "sensitive soft indie rock." But there's a toughness to this band. "No Sunlight," from 2008's Narrow Stairs, stretched into an extended jam at the end and both "The New Year" and "Long Division" were highlights.
After playing "60 & Punk" from Thank You for Today, Death Cab reset the mood with the ominous instrumental that introduces "I Will Possess Your Heart." They dusted off older songs too, like "Styrofoam Plates" from 2001's The Photo Album and "Photobooth," found on their second album, 2000's We Have the Facts and We're Voting Yes.
"Soul Meets Body" energized the crowd, which chimed in on backing vocals before the band left the stage for the first time. When Death Cab returned for the encore, the audience enthusiastically sang along to "I Will Follow You into the Dark."
Gibbard told of how he met Lewis for the first time, 18 years ago, when the pair formed the Postal Service together (with producer Jimmy Tamborello). Lewis joined Gibbard onstage for a Postal Service mini-reunion, and they dueted on "Nothing Better" from 2003's Give Up, that group's only release.
Death Cab wrapped up the show with "You are a Tourist" from 2011's Codes and Keys, with Gibbard starting on piano before switching to guitar for the plaintive and steady, "Transatlanticism," the title track of the band's masterful 2003 album.
As a sated crowd filed out into the cool New York night, many could be heard declaring what a great show it was — and it certainly was for me.
Setlist:
The Ghosts of Beverly Drive
The New Year
Long Division
Title and Registration
Gold Rush
Crooked Teeth
Photobooth
No Sunlight
What Sarah Said
60 & Punk
I Will Possess Your Heart
Autumn Love
Black Sun
Expo '86
Northern Lights
Styrofoam Plates
Cath…
We Looked Like Giants
Soul Meets Body
Encore:
I Will Follow You Into the Dark
Nothing Better (with Jenny Lewis)
You Are A Tourist
Transatlanticism
[Recorded 6/15/19]
PLEASE NOTE: This performance has not been edited for language and may contain profanity.