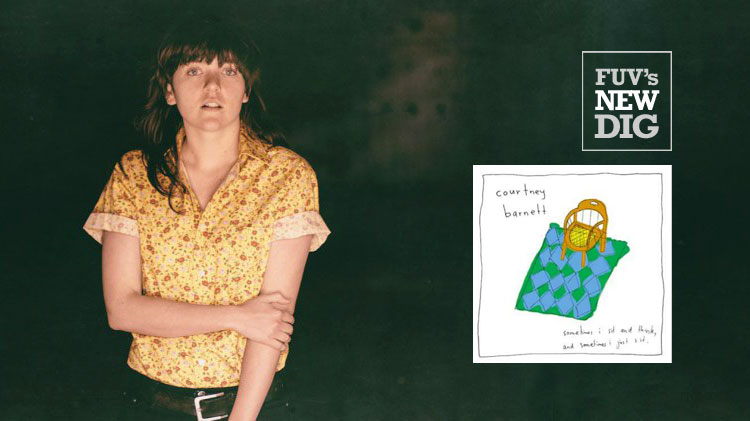 Courtney Barnett
Things Take Time, Take Time
Milk!/Mom + Pop Records
Why This Album Matters:
There's a gentle, alternative mindset that defines a different side of Courtney Barnett on her third solo album, Things Take Time, Take Time. Barnett's attentive, relaxed pace allows her to express calm, thoughtful sentiments, positivity, and a general kindness. It's the kind of album that everyone needs as we swim through this second pandemic year. Barnett has said that her songwriting was a reaction to her own burnout and a deflating negativity that had crept into her psyche over the past several years. With this new album, entirely written and recorded in Melbourne and Sydney during the lockdown, Barnett seeks a reset by appreciating life's simple pleasures, whether it's examining a tree's leaves or remembering to change her bedsheets.
In Her Own Words:
"This extra level of self-reflections and depth [during lockdown] gave me an unobstructed view of myself that maybe before, in other circumstances, I could just avoid by distracting myself with people or activities or going out somewhere," Barnett told The Independent. "There was none of that. This was a forced, more direct look into myself. Certain levels of that were probably very confronting but I tried to make the most of the parameters set for me."
Barnett has a particular way she sees each album, like Things Take Time, Take Time. "It kind of tells a story or it documents this period," said Barnett to host Russ Borris for a future episode of FUV's "8Track" podcast. "Each song is kind of strengthened by the ones around it. Even if it's not, like, a narrative that needs to be listened to in a particular direction, but it's like, each song kind of fills in some of the emotional storyline."
Highlights:
"Before You Gotta Go," "If I Don't Hear From You Tonight," "Rae Street," "Sunfair Sundown,"  "Write A List Of Things To Look Forward To"
Why You Will Dig Things Take Time, Take Time:
In the aftermath of 2018's Tell Me How You Really Feel, Barnett came off the road exhausted. She'd broken up with her longtime partner, Jen Cloher, and crisis upon crisis, from Australia's wildfires to her own mental health as the world sunk into the pandemic, forced a change in perception. The result, Things Take Time, Take Time, is Barnett's step to recovery. 
The arrangements are very spare; Barnett worked with her friend, Warpaint's Stella Mozgawa, as multi-instrumentalist and co-producer, and the pair kept things simple. A good example: "Sunfair Sundown," which uses a rhythmic pattern from a drum machine to create a relaxed, leisurely stroll. The very pretty "Here's The Thing" also has the stripped-back, clean sound that runs through Things Take Time, Take Time, while "Before You Gotta Go" and the pointed "Take It Day By Day" emphasize Barnett's singular voice and her jangling electric guitar work.  Elsewhere, those same guitars make "Write A List Of Things To Look Forward To" a sweet shot of power pop. As always, Barnett's lyrical humor and honesty always lift her songs, as on "Rae Street" ("Well time is money/And money is no man's friend") and "Turning Green" ("The trees are turning green/And this springtime lethargy/Is kinda forcing you to see/Flowers in the weeds").
Recommended If You Like:
Hurray For the Riff Raff, Unknown Mortal Orchestra, Vagabon, Angel Olsen,  Sharon Van Etten, Kurt Vile
FYI:
- Barnett's usual bandmates — bassist Bones Sloane, percussionist Dave Mudie, and guitarist Dan Luscombe — sit out on this album.
- Mozgawa and Barnett also collaborated with Kurt Vile on 2017's Lotta Sea Lice.
- Things Take Time, Take Time was recorded at Sydney's Golden Retriever Studios. Barnett and Mozgawa played all of the instruments.