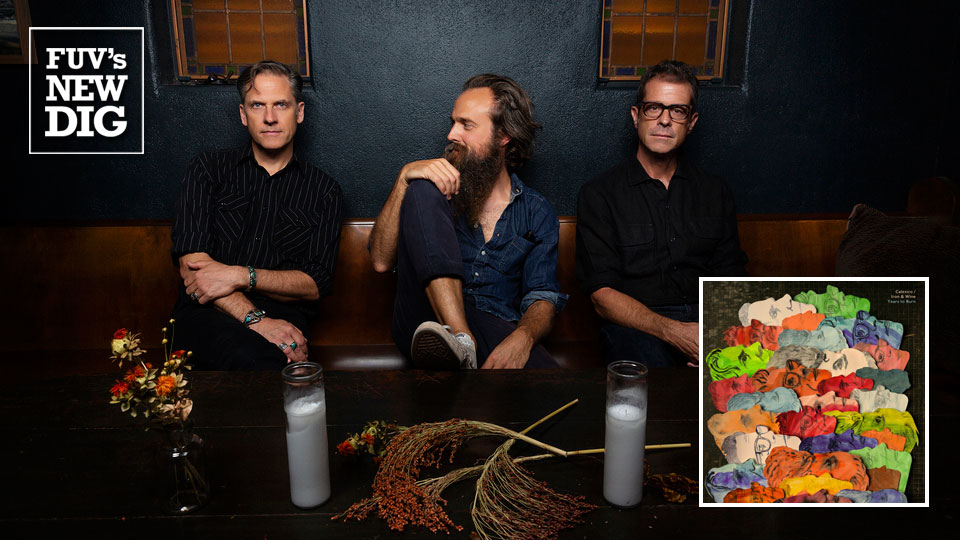 Calexico and Iron & Wine
Years To Burn
Sub Pop/City Slang
Calexico and Iron & Wine's Sam Beam have recorded as a unit before — on the 2005 7-track EP In the Reins. They also covered Bob Dylan's "Dark Eyes" for the I'm Not There soundtrack and they've toured together too, which even further established their bond. Now the longtime friends conjure collaborative magic with Years to Burn, their first full-length album.
Calexico's multi-instrumentalist and singer Joey Burns and drummer John Convertino, who hail from Tuscon, Arizona, and Beam's Iron & Wine, based in North Carolina, find common ground on Years to Burn, an album that elevates the strengths of every musician.
Years To Burn begins with "What Heaven's Left," a sweet, country love song complete with pedal steel, a trumpet-filled fanfare at the end, and tender words too: "You take these tears off my face/You give me dawn for all the night that I make/What wave of a wild hand called you into this world?"
"Follow The Water" drifts along this same pastoral plane. "Midnight Sun," dry and arid like a gentle desert breeze, blows into "Father Mountain," which offers a cool, refreshing respite. Beam sits on the sidelines as Calexico's trumpeter, Jacob Valenzuela, is at the center of the brief instrumental "Outside El Paso," which plays like a spooky interlude off of an early '70s Miles Davis album.
Years To Burn's three-part medley, "The Bitter Suite," is epic. It kicks off with the Spanish-sung "Pajaro," merges into a wordless, progressive midsection, "Evil Eye," and concludes with a quintessential Iron & Wine note, "Tennessee Train." The album's title track is a beautifully whispered lullaby featuring Burns' hushed lead vocals, which effortlessly lead to the celebratory finale, "In Your Own Time," a song that Beam first wrote over 20 years ago.
Years To Burn was born in Nashville over a four day stretch in December 2018. It was produced by Beam, Burns, Convertino and Grammy-winning engineer Matt Ross-Spang. Beam plays acoustic guitar and sings throughout most of the album, handling most of the lead vocals. Calexico is represented here by guitarist and singer Burns, drummer Convertino, and trumpeter Valenzuela. Also contributing are Paul Niehaus on pedal steel guitar and two of Beam's frequent bandmates: Rob Burger on piano, organ, vibes, accordion and prepared piano, and Sebastian Steinberg, who plays electric bass, bowed upright bass, nylon string guitar, and percussion.
Beam wrote the majority of the songs on Years To Burn, but Burns, inspired by demos that Beam sent along to him, wrote "Midnight Sun," on the day of his arrival to Nashville to record. "I arrived at our rental house the day before everyone else and was happy to find a piano, old pump organ and guitar to do some writing," he explains via Sub Pop's website." I was up late and came up with a tune that would bridge both bands' worlds."
In addition, the first two sections of "The Bitter Suite," ("Pajaro" and "Evil Eye") were written by Beam and Burns, and "Outside El Paso" was composed by all seven of the musicians.
While not reinventing themselves in any way, both Calexico and Iron & Wine shine on Years To Burn, a gorgeous, magnetic expression of their deep connection as artists and friends. Coming together as a band, with intuition and mutual admiration — while gently nudging each other in surprising directions — is an inspired move.
Join FUV Live for a summer solstice concert with Calexico and Iron & Wine and Adia Victoria, broadcast live on 90.7FM and streaming online, from the BRIC Celebrate Brooklyn! Festival on Friday, June 21, beginning around 7:30 p.m., EDT.