Cake: Forest Hills Stadium 2018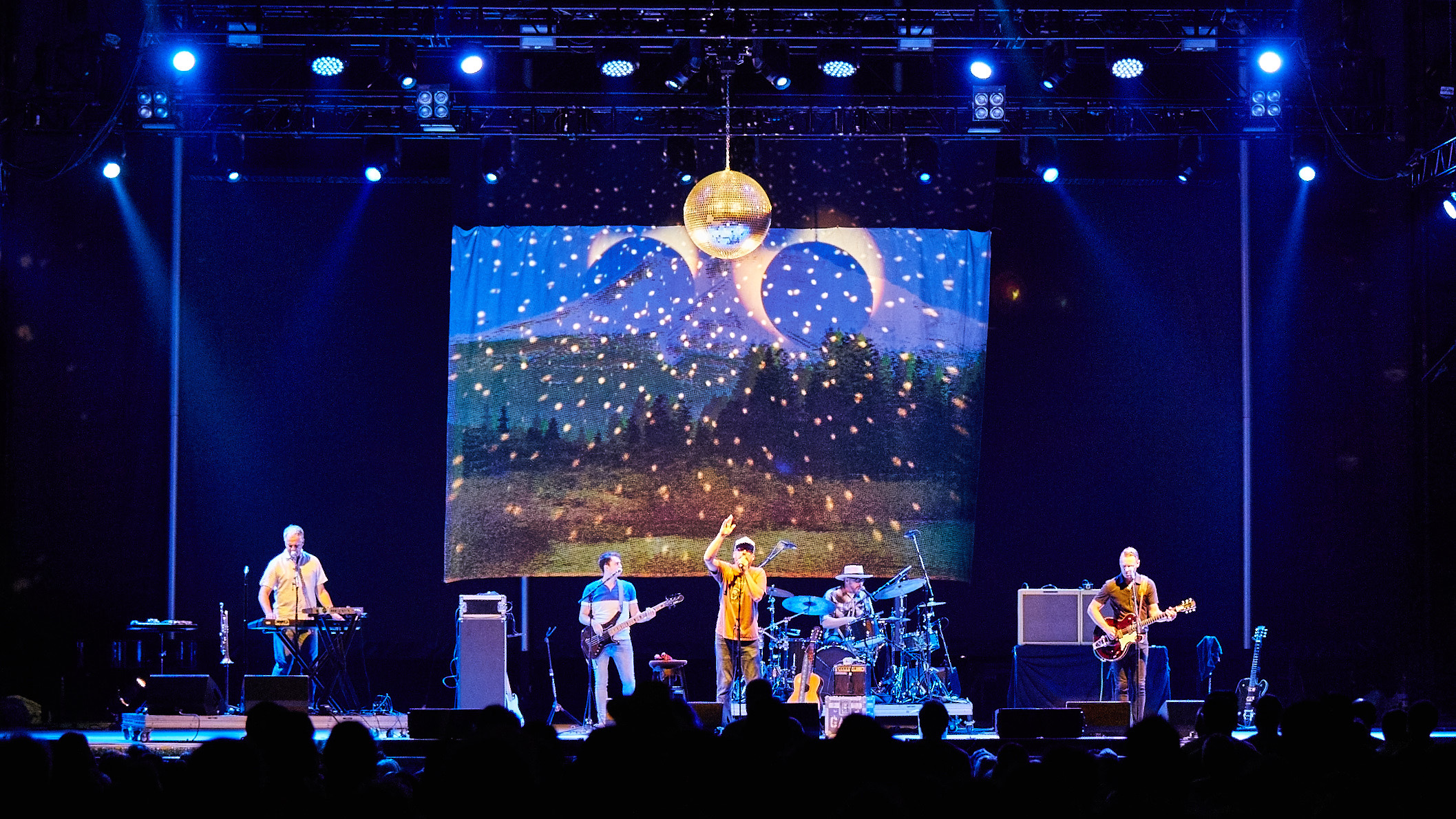 The "Summer of FUV" concert series continued on Friday, August 17, with a tour de force live broadcast of co-headliners Cake and Ben Folds at Forest Hills Stadium.
Compared to the first half of the evening with Ben Folds, the second half with Cake was louder, darker, and weirder. Frontman John McCrea's deadpan style of talk-singing might owe a little something to Lou Reed and something else to comedian Steven Wright, but the singer has forged his own creative path since the early '90s when Cake came to prominence in Sacramento.
Trumpeter Vince DiFiore adds another distinctive element to the quintet's sound and is the perfect foil for McCrea's idiosyncratic compositions. On this hot, humid night, Cake offered covers ranging from Willie Nelson's "Sad Songs and Waltzes" to Black Sabbath's "War Pigs," an encore surprise, but there were plenty of Cake songs too, like "The Distance" and "Never There." The band even slipped a fine new song into the set, "Sinking Ship," that hasn't been recorded yet.
Somewhat of a provocateur in a live setting, McCrea gently chastised the audience at the top of the set, gesticulating that they rise out of their seats sooner rather than later. "Stickshifts and Safetybelts," from 1996's Fashion Nugget, brought things into cowpunk territory. Since the song came from the end of what McCrea called, "the cheap gas era," it also gave him an opportunity to make a few choice remarks about environmentalism and the rapid consumption of fossil fuels. And as part of his intro to "Sick of You," he exclaimed, "If you're enjoying the hostility stay tuned, because here we go!"
By the end of the night, as he's done for over a decade, McCrea gave a tree away. He brings a tree to every show and gives it away during the show to a fan who agrees to care for it. (On Cake's website, you can see a map of the forest of trees they've given away so far.)
Listen on-demand to the whole show below, and we have Ben Folds' set available in the Vault too. Next on the "Summer of FUV" line-up, we return to Forest Hills Stadium on September 15 to bring you David Byrne, live on FUV. Check out our full line-up of shows here.
Setlist
Frank Sinatra
Perhaps, Perhaps, Perhaps (Joe Davis and Osvaldo Farrés cover)
Long Time
Sinking Ship
Stickshifts and Safetybelts
Sad Songs and Waltzes (Willie Nelson cover)
Opera Singer
Sick of You
Never There
Short Skirt/Long Jacket
The Distance
Encore:
War Pigs (Black Sabbath cover)
[recorded: 8/17/18]