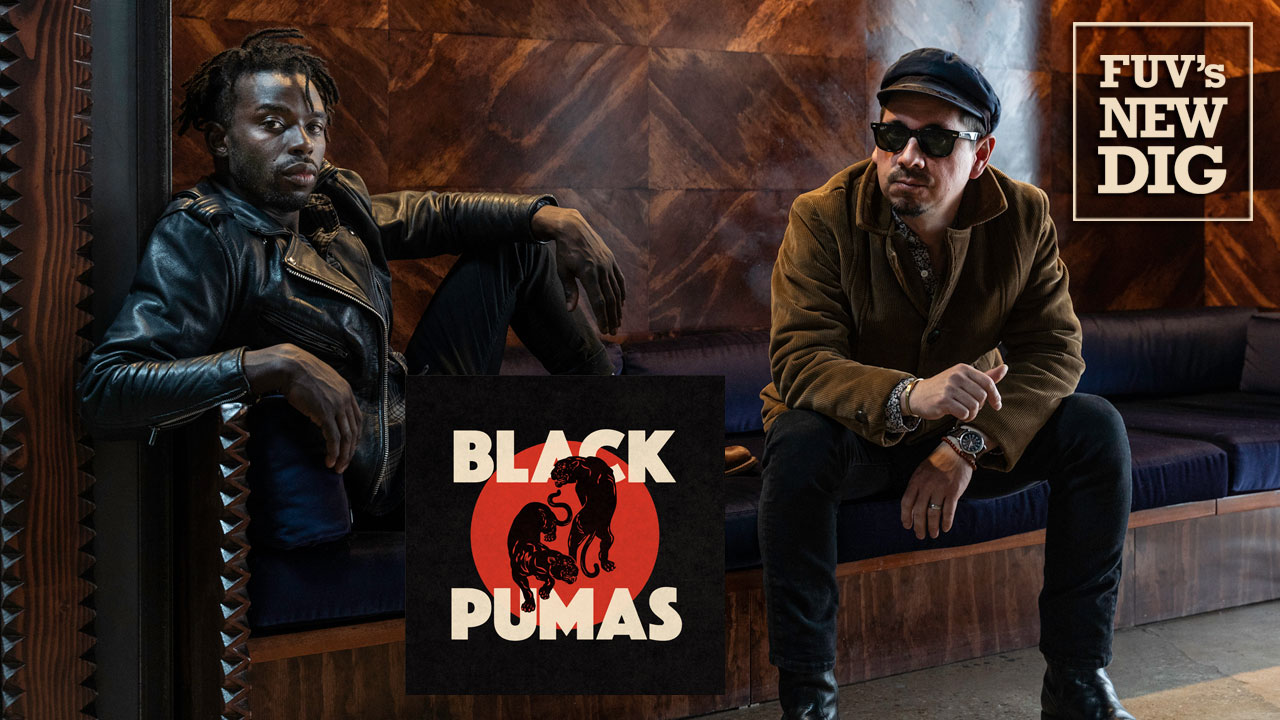 Black Pumas
Black Pumas
ATO Records
The mysterious and fierce Black Pumas, the duo of Adrian Quesada and Eric Burton, made an indelible mark earlier this year when they were named the Best New Band at the 2019 Austin Music Awards. Their single,  "Black Moon Rising," was named Song of the Year and they were cited as breakout band of 2019 by NPR's "Here and Now." And Black Pumas impressed FUV at SXSW this past March with a knockout set for our SXSJ showcase at Hotel San José.
Although elements of old school soul are prevalent in their sound, Black Pumas make a conscious attempt not to sound like a retro act; their press release describes them as being "reminiscent of Ghostface Killah and Motown in equal measure."
Quesada is a Grammy-winning musician and producer who was part of the bands Grupo Fantasma and Brownout. He also does session work and produced 2018's Look At My Soul: The Latin Shade Of Texas Soul (which was also performed as part of Lincoln Center's Out of Doors Festival on July 27).
Burton, a native of the Los Angeles area who settled in Austin, Texas in 2015, is a singer, writer and actor with a background in the church and musical theater. The pair connected fortuitously— Quesada was working on some new songs but he needed a singer, and Burton was busking on the Austin streets — and natural and comfortable bond was forged. They assembled a band, Burton's own songs, written before he met Quesada, were added to the mix and the group began gigging throughout Austin, building a following based on their potent live performances.
Black Pumas' self-titled debut album recalls the sultry score to a Seventies-era blaxploitation-genre film  — I thought of Curtis Mayfield's Super Fly soundtrack on first listen. There's no mistaking Burton's talent; he possesses a smooth, commanding voice and delivers his lyrics with the confidence of an old-school soul crooner. Quesada is in complete control of the music's intensity, lowering and raising the flame, fluctuating between a slow simmer ("Colors") and a searing boil ("Touch The Sky").
The first two songs the duo recorded, "Black Moon Rising" and "Fire," encapsulate the groove that Black Pumas lean on throughout the album. "Oct 33," one of Burton's songs, is a dramatic, bluesy plea, featuring a deft guitar solo from Quesada. "Confines" sways at a languid pace and "Old Man" is simply ultra-cool. "Sweet Conversations," written by Burton and Josh Blue, closes the album with a bit of acoustic stoned-soul-picnic psychedelia.
Black Pumas was produced, engineered and mixed by Quesada and was recorded in his home studio. Quesada plays electric guitar and some keyboards throughout while Burton plays occasional acoustic guitar, handles all lead vocals and wrote all of the lyrics. The majority of the tracks are Quesada and Burton compositions, while a few were written solely by Burton.
Black Pumas are an incendiary pair, extracting both funky Stax soul with hip hop's mellow intensity. Their debut makes for a fascinating listen; an eccentric soundtrack to a movie that's yet to be made.
Listen to an inteview with Adrian Quesada and Eric Burton with Alisa Ali this Monday, July 29, between 11 a.m. and 1 p.m. And we'll rebroadcast Black Pumas SXSJ set on FUV Live later that day at 8 p.m., also available on demand.