Best of 2022: Poll Results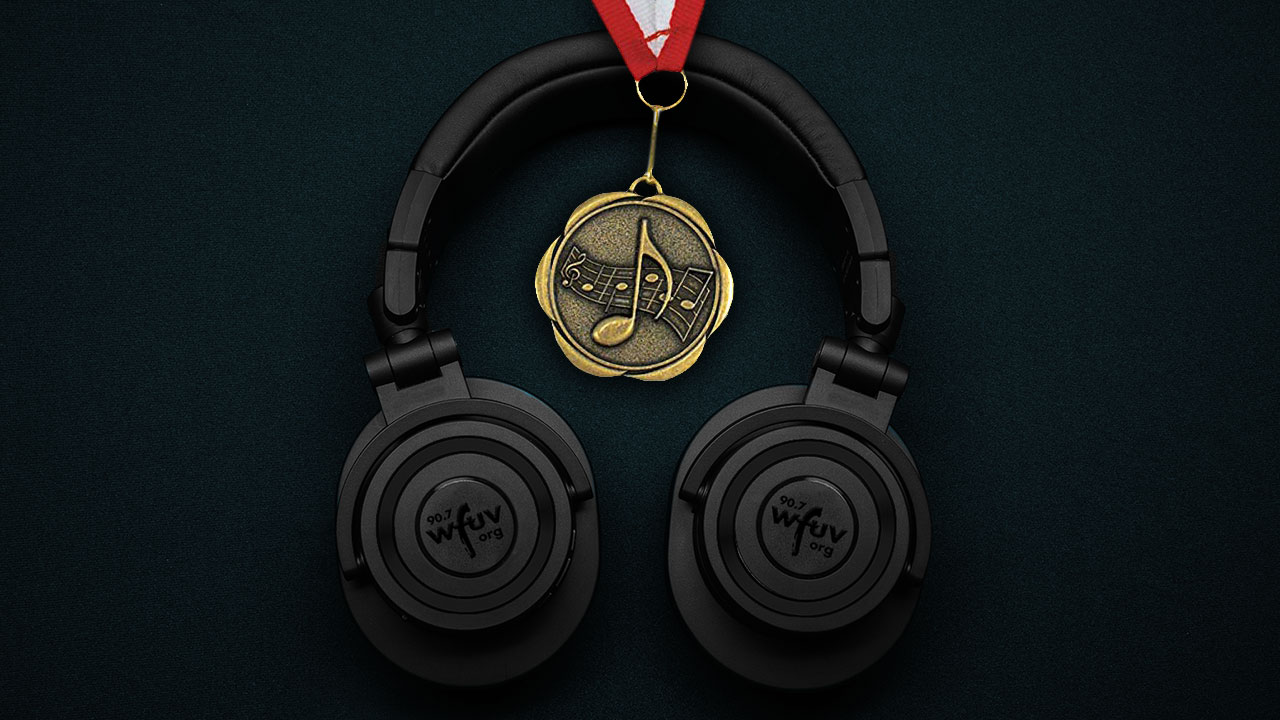 Public Radio rocks because WE listen to YOU. When you vote in our annual listener poll, comment on our social media posts, or request songs for the Question of the Day — we're listening. We asked you to vote for your favorite songs and albums of the year, and to pick a band that's your new discovery for 2022. Here's what you, and your friends and neighbors, had to say.
See: Top 90 Songs | Top 50 Albums | New Discoveries | Spotify Playlist
---
Top 90 Songs of 2022
Fontaines D.C., "Jackie Down The Line"
Yeah Yeah Yeahs, "Burning"
Wet Leg, "Wet Dream"
LCD Soundsystem, "New Body Rhumba"
Lizzo, "About Damn Time"
Big Thief, "Simulation Swarm"
Death Cab For Cutie, "Here To Forever"
Allison Russell (w/Brandi Carlile), "You're Not Alone"
First Aid Kit, "Out Of My Head"
Harry Styles, "As It Was"
Florence + The Machine, "Free"
Spoon, "The Hardest Cut"
Father John Misty, "Goodbye Mr. Blue"
Regina Spektor, "Becoming All Alone"
Harry Styles, "Matilda"
Stephen Sanchez, "Until I Found You"
Phoebe Bridgers, "Sidelines"
Spoon, "My Babe"
The Black Keys, "Wild Child"
Maggie Rogers, "That's Where I Am"
Mitski, "Love Me More"
Steve Lacy, "Bad Habit"
Yeah Yeah Yeahs (w/Perfume Genius), "Spitting Off The Edge Of The World"
Tedeschi Trucks Band, "Sweet Soul Song"
The Linda Lindas, "Oh!"
Arctic Monkeys, "There'd Better Be a Mirrorball"
Charley Crockett, "I'm Just a Clown"
The National (w/Bon Iver), "Weird Goodbyes"
Harry Styles, "Music for a Sushi Restaurant"
Panda Bear & Sonic Boom, "Edge of the Edge"
Phoenix, "Alpha Zulu"
Soccer Mommy, "Shotgun"
Wet Leg, "Angelica"
Spoon, "Wild"
Vieux Farka Toure and Khruangbin, "Tongo Barra"
Maggie Rogers, "Want Want"
Mt. Joy, "Lemon Tree"
Sharon Van Etten, "Mistakes"
The 1975, "Part of the Band"
Florence + The Machine, "My Love"
Alvvays, "Easy On Your Own?"
Beabadoobee, "The Perfect Pair"
Big Thief, "Certainty"
Bomba Estéreo and Manu Chao, "Me Duele"
Gorillaz, "Cracker Island"
Lizzo, "2 Be Loved (Am I Ready)"
Phoenix (w/Ezra Koenig), "Tonight"
Plains, "Problem With It"
Angel Olsen, "Big Time"
Bonnie Raitt, "Made Up Mind"
Foals, "2am"
Lucy Dacus, "Kissing Lessons"
Nikki Lane, "First High"
The Killers, "Boy"
Allison Ponthier, "Hollywood Forever Cemetery"
Broken Bells, "Saturdays"
Cuco (w/Kacey Musgraves and Adriel Favela), "Sitting In The Corner"
Eddie Vedder, "Brother The Cloud"
Orville Peck, "Daytona Sand"
The 1975, "I'm In Love With You"
The Head and The Heart, "Virginia (Wind in the Night)"
Arlo Parks, "Softly"
Dehd, "Bad Love"
Fontaines D.C., "Roman Holiday"
Portugal. The Man, "What, Me Worry?"
Say She She, "Prism"
The Heavy Heavy, "Miles and Miles"
Beach House, "Superstar"
MUNA, "Anything But Me"
Father John Misty, "Funny Girl"
Margo Price, "Change Of Heart"
SAULT, "Stronger"
The 1975, "All I Need To Hear"
The Smile, "You Will Never Work In Television Again"
Amanda Shires, "Hawk For The Dove"
Bartees Strange, "Heavy Heart"
Craig Finn, "Birthdays"
Lucius, "Next To Normal"
Marcus King, "Blood On The Tracks"
Parquet Courts, "Watching Strangers Smile"
Alex G, "Runner"
Arctic Monkeys, "I Ain't Quite Where I Think I Am"
Diana Ross and Tame Impala, "Turn Up the Sunshine"
Momma, "Speeding 72"
Kendrick Lamar, "The Heart Part 5"
Lizzo, "If You Love Me"
Wilco, "Falling Apart (Right Now)"
Lucius, "Dance Around It"
Sunflower Bean, "Who Put You Up to This?"
Marcus King, "Hard Working Man"
---
Top 50 Albums of 2022
Wet Leg, Wet Leg
Spoon, Lucifer On The Sofa
Yeah Yeah Yeahs, Cool It Down
Lizzo, Special
Harry Styles, Harry's House
Florence + The Machine, Dance Fever
Mitski, Laurel Hell
Big Thief, Dragon New Warm Mountain I Believe In You
First Aid Kit, Palomino
Death Cab For Cutie, Asphalt Meadows
The 1975, Being Funny In a Foreign Language
Maggie Rogers, Surrender
Fontaines D.C., Skinty Fia
The Black Keys, Dropout Boogie
Father John Misty, Chloe and The Next 20th Century
Arctic Monkeys, The Car
Tedeschi Trucks Band, I Am The Moon
Phoenix, Alpha Zulu
Wilco, Cruel Country
Sharon Van Etten, We've Been Going About This All Wrong
Lucius, Second Nature
Regina Spektor, Home, Before and After
Beach House, Once Twice Melody
Elvis Costello, The Boy Named If
Soccer Mommy, Sometimes, Forever
The Smile, A Light For Attracting Attention
Jack White, Entering Heaven Alive
The Head and The Heart, Every Shade of Blue
Kendrick Lamar, Mr. Morale and The Big Steppers
The Linda Lindas, Growing Up
Beyoncé, Renaissance
Marcus Mumford, (Self-Titled)
MUNA, MUNA
Marcus King, Young Blood
Andrew Bird, Inside Problems
Bartees Strange, Farm To Table
Beabadoobee, Beatopia
Alvvays, Blue Rev
Angel Olsen, Big Time
Charley Crockett, The Man From Waco
Bruce Springsteen, Only The Strong Survive
Amanda Shires, Take It Like a Man
Danger Mouse & Black Thought, Aquamarine
Orville Peck, Bronco
Steve Lacy, Gemini Rights
Weyes Blood, And In The Darkness, Hearts Aglow
Nikki Lane, Denim & Diamonds
Sylvan Esso, No Rules Sandy
Sunflower Bean, Headful Of Sugar
Say She She, Prism
---
Top Discoveries of 2022
The Linda Lindas
Say She She
Stephen Sanchez
The Heavy Heavy
Momma
---
Spotify Playlist: Best Songs of 2022