Ben Folds: Forest Hills Stadium 2018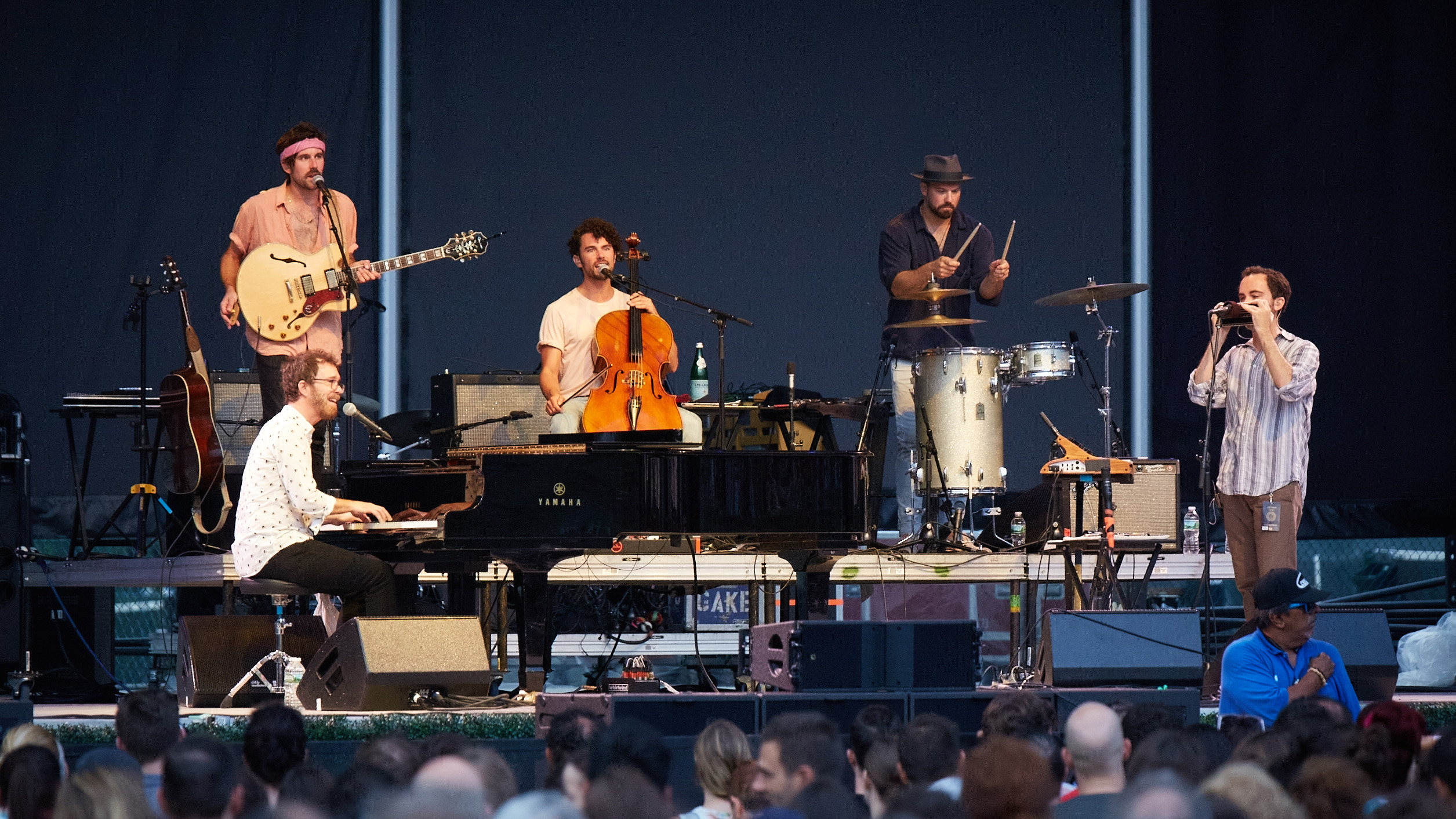 The "Summer of FUV" concert series continued on Friday night, August 17, from Forest Hills Stadium with a live broadcast of Ben Folds and Cake: an idiosyncratic, lyrical banquet of songs.
In addition to Ben Folds' expected favorites, like "Still Fighting It" and "The Battle of Who Could Care Less," he also brought along a brand new song called "Forest Hills" — personalizing the very locale. As Folds pointed out, it wasn't much of a song, more of a goof. But it provided a quirky New York moment and a few laughs in a set cherry-picked from the musician's career of over two decades, from radio hits like "Brick" to deeper tracks like "Do It Anyway," from 2012's The Sound of the Life of the Mind.
Folds was less of a loquacious storyteller than he's been on other nights since time was a factor due to the double bill with Cake. However he did interrupt his sturdy melodies and stellar piano playing long enough to share a cute anecdote about Cake's frontman John McCrea, his friend since the '90s. Back when Folds's son Louis was a year old, McCrea came over for a visit. From an adjacent room, Folds overheard McCrea enthusiastically telling the infant, "this is your childhood!"
Folds and his bandmates — Tim Harrington on guitar, cellist Paul Wright, drummer Paul Dumas, and Ross Garren on bass harmonica — added textures and resonant vocal harmonies on songs like "Annie Waits" from 2001's Rockin' the Suburbs.
Harrington and Wright also opened the entire evening as their own duo, Tall Heights.
Listen on-demand to the whole show below, and we have Cake's set available in the Vault too. Next on the "Summer of FUV" line-up, we return to Forest Hills Stadium on September 15 to bring you David Byrne, live on FUV. Check out our full line-up of shows here.
Setlist
Phone in a Pool
The Ascent of Stan
Annie Waits
The Battle of Who Could Care Less
Forest Hills
Levi Johnston's Blues (not included in archived show)
So There
Brick
You Don't Know Me
Jesusland
Still Fighting It
Do It Anyway
Landed
Zak and Sara
Rockin' the Suburbs (not included in archived show)
Not The Same
[recorded: 8/17/18]