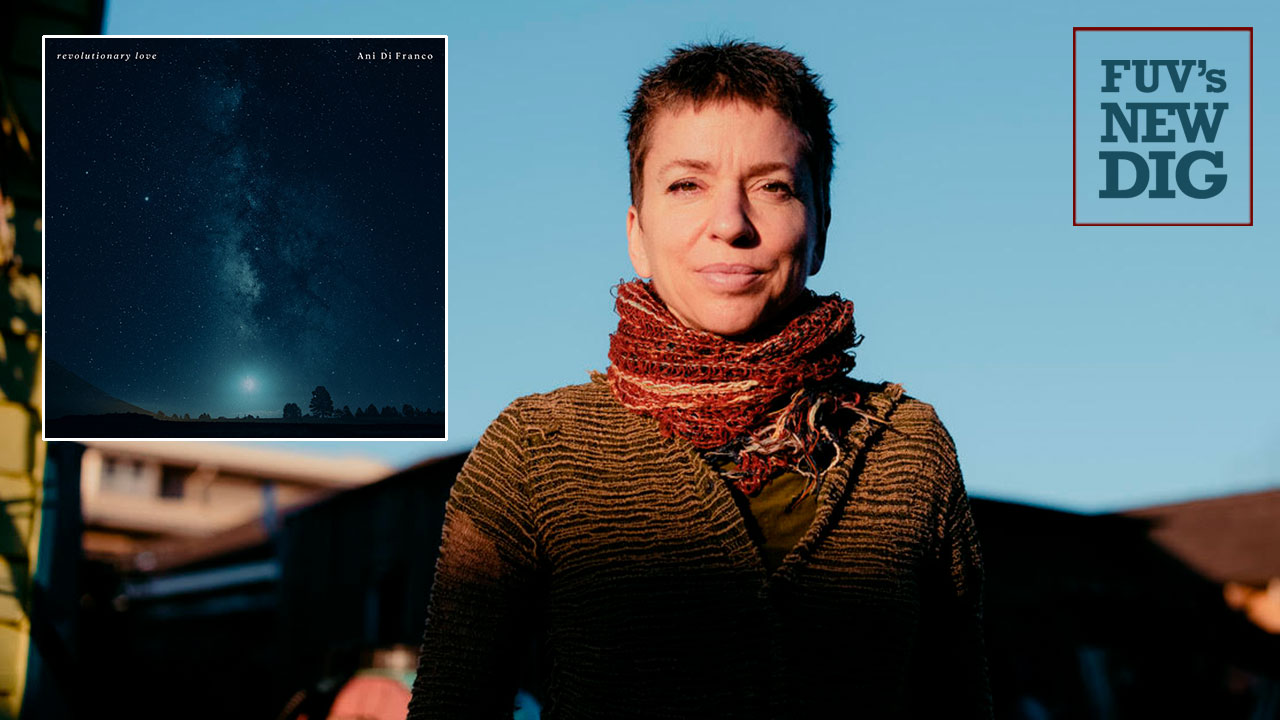 Ani DiFranco
Revolutionary Love
Righteous Babe Records
Why This Album Matters:
For thirty years DiFranco has been a trailblazer, forging her own course as a singer, songwriter, guitarist, producer, record company executive, writer, poet, activist and mother. From the start, she has been a fiercely independent artist, refusing to answer or succumb to outside influences or pressures. It was with this conviction that she founded Righteous Babe Records when she was 19. DiFranco is a social and political force, supporting many different causes, including the LGBTQ+ community, women's rights, reproductive justice, anti-racism, and environmental causes.
In Her Own Words:
In an interview with Forbes, she described the album and how her own life reflects the times we live in: "There's the usual Ani-mix of personal, political blurry lines, it all resonates. I very much feel like I'm for better or worse, always in step with my society. Like, my society is imploding, well so am I, coincidentally. I feel like I'm always a reflection of the greater circumstance. My personal life is just a mirror. I think that comes through my songs."
Revolutionary Love highlights:
"Bad Dream,"  "Do Or Die," "Chloroform," "Confluence" (an instrumental), "Contagious," "Revolutionary Love," and  "Simultaneously."
Why You Will "Dig" Revolutionary Love:
DiFranco's signature mix of folk, folk-rock and alt-rock is perfectly blended with a complex mélange of funk, jazz, hip hop, and the avant-garde. Her sophisticated melodies, enthralling soundscapes, and vivid arrangements are the vessels for her words, giving voice to the deepest fears and frustrations we all feel.
Recommended if you like:
Fiona Apple, Billy Bragg, Woody Guthrie, Indigo Girls,  Joni Mitchell, Liz Phair, and Pete Seeger.
FYI: 
- As the pandemic approached, DiFranco spent less than a week in a Durham, North Carolina studio recording Revolutionary Love. Finishing touches were then added in Eugene, Oregon and Pensacola, Florida.  Many of the performances were captured in one or two takes.
- The title Revolutionary Love (and the idea) comes from a book written by Ani's friend, Valarie Kaur.
- Revolutionary Love is DiFranco's 22nd solo studio album and the follow up to 2017's Binary. She's also released two studio albums with folksinger Utah Phillips, two live albums, several compilations and a handful of EPs. DiFranco, 50, was born in Buffalo and currently resides in New Orleans.
Listen for a brand new FUV Marquee Live at Home session with Ani DiFranco this Thursday, February 18, at 1p.m. with host Alisa Ali.