Aimee Mann - Live Concert - 2012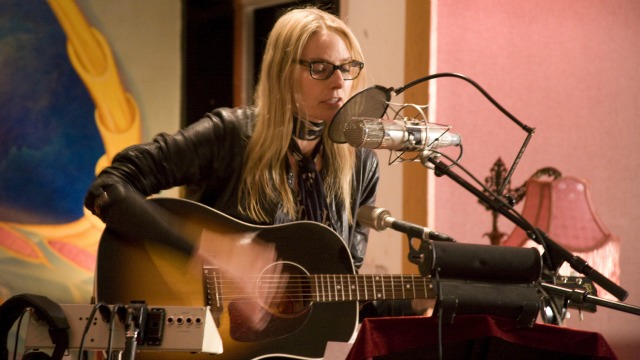 I don't know why Aimee Mann has a reputation of being prickly or cold. But everybody I told about my session says, "good luck," as though she might take off my head. On the contrary, I've found Aimee Mann quite warm in multiple meetings and interviews. She is funny, available and, no surprise here — very bright. A great conversationalist, in fact.

Today, she is exhausted, though. She's just recorded two videos and several "promotional" versions of her songs and is about to launch into a slew of interviews... all before doing a show for an FUV audience at Electric Lady Studios. It's all making her a little anxious about delivering on all she's promised today, but Aimee is still in good humor and cheerfully launches into a spirited chat about her new record, Charmers. Her mood darkens briefly when we touch on the trouble the music biz is in, but her attitude towards those who steal music is "live and let live."

As for the new CD, it leans hard on her pop influences from the '70s, but those influences translate into something entirely fresh: broad musical gestures and (of course) her signature hooks. One highlight: a duet with James Mercer of the Shins.

Listen below for my conversation with Aimee, as well as trio performances of new and longtime favorites from her catalog.
[recorded: 06/27/12]
Flickr Gallery