The Doctor Is In the House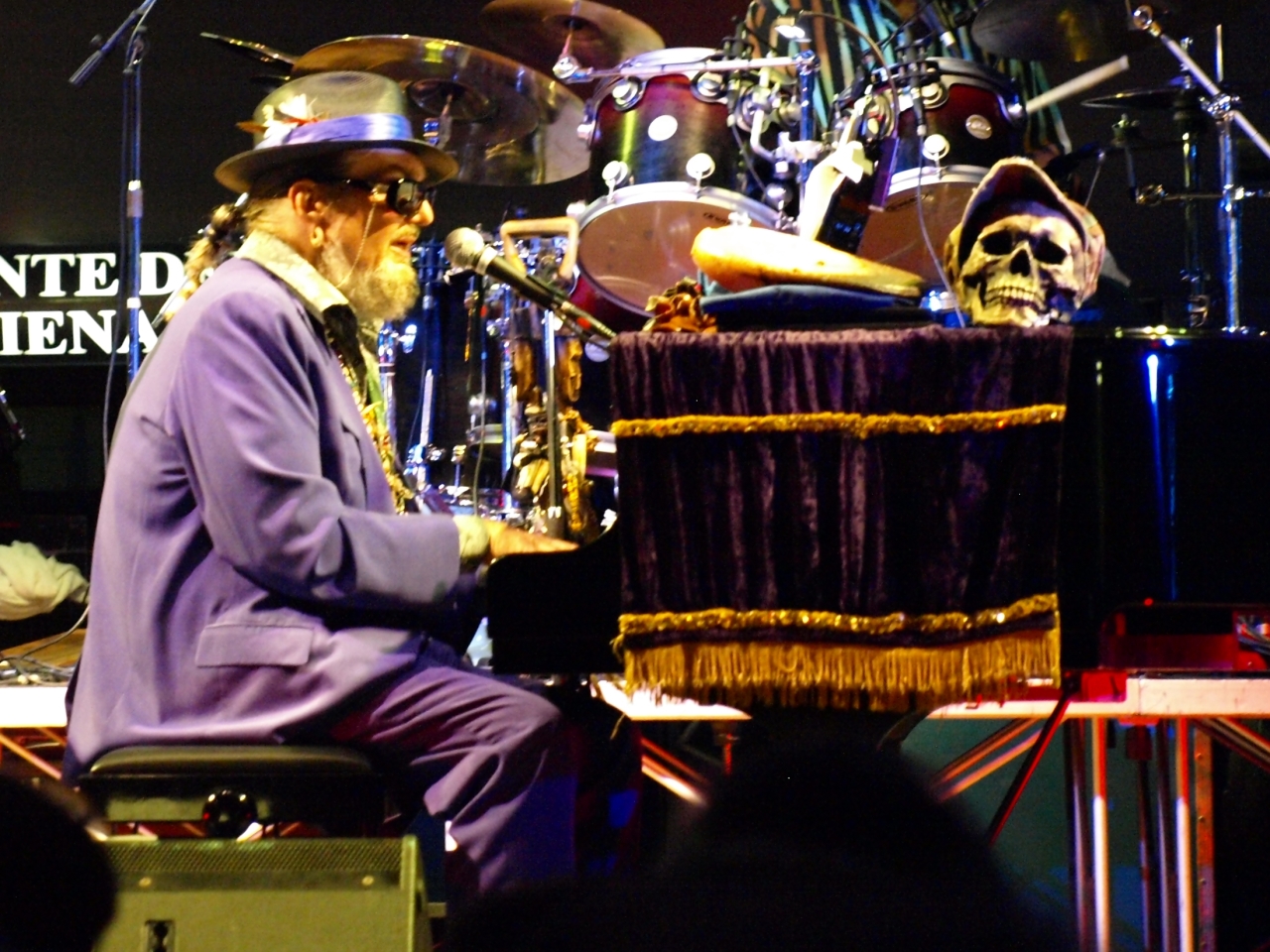 It's been two months since Mardi Gras and less than two weeks until Jazzfest, but you can find a taste of The Big Easy in Brooklyn this weekend in the third part of Dr. John's "Insides Out" residency at BAM, "Funky But It's Nu Awlins."
The concert began with Dr. John, resplendent in a blue suit and black fedora and grasping an ornate cane, leading a second line from the back of the hall down the center aisle. Behind him danced a parade of musicians, including Ivan Neville, the Dirty Dozen Brass Band, and a familair red-haired figure, Bonnie Raitt. Bonnie's presence turned out to be a tease. She's in town to perform on Letterman, the Colbert Report and GMA (and also to record an interview with Rita Houston), but not to perform with the good doctor. Still, with an array of guest stars performing some of NOLA's greatest hits, she really wasn't missed.
You had Dr. John propelling the killer house band (which included a four-piece horn section with a fabulous female trombonist, Sarah Morrow) through "Iko Iko." You had Donald Harrison, displaying his chops not only on alto saxophone but vocals, too, on "Hey Pocky Way." You had trumpeter Nicholas Payton channeling Louis Armstrong on a sublime "Do You Know What It Means to Miss New Orleans?" You had Davell Crawford sounding otherwordly on both organ and vocals. You had Irma Thomas, a little unsteady on her feet after a recent knee replacement but in fine shape vocally, earning a standing ovation for  "You Can Have My Husband But Don't Mess With My Man." Then the audience still on its feet and dancing for "Right Place Wrong Time" and "It's All Over Know" with the Dirty Dozen. Finally, Dr. John introduced the "the grand slam issue," the whole ensemble doing "Turn It Up and Burn It Down."
Every musician was certainly on fire, and we knew we were in the right place at the right time. Thank you, BAM, for showcasing the many facets of Dr. John in his residency. There's one last show tonight, and if there are any tickets available, grab them!