John Lennon with Dennis Elsas, 1974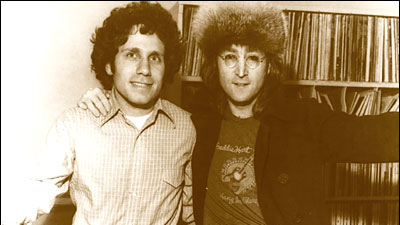 John Lennon was my "surprise" on-air guest on September 28th, 1974. What began simply as an opportunity for John to promote his just-released Walls and Bridges album turned into two hours of radio magic: John as the DJ, John discussing his former bandmates and speculating on the possibility of a Beatles reunion, John sharing some of the secrets behind the songs, and John just being John.
Enjoy lots of great music and rare features, including John's introduction and explanation of "I Am the Walrus" and the secret of "Number Nine, Number Nine, Number Nine."
Lennon even took over as DJ, playing some obscure 45's he had brought with him, reading commercials and doing the weather reports. Excerpts of the interview have appeared in the Beatles Anthology and numerous documentaries.
You can hear my favorite moments anytime in my personal archives at denniselsas.com.