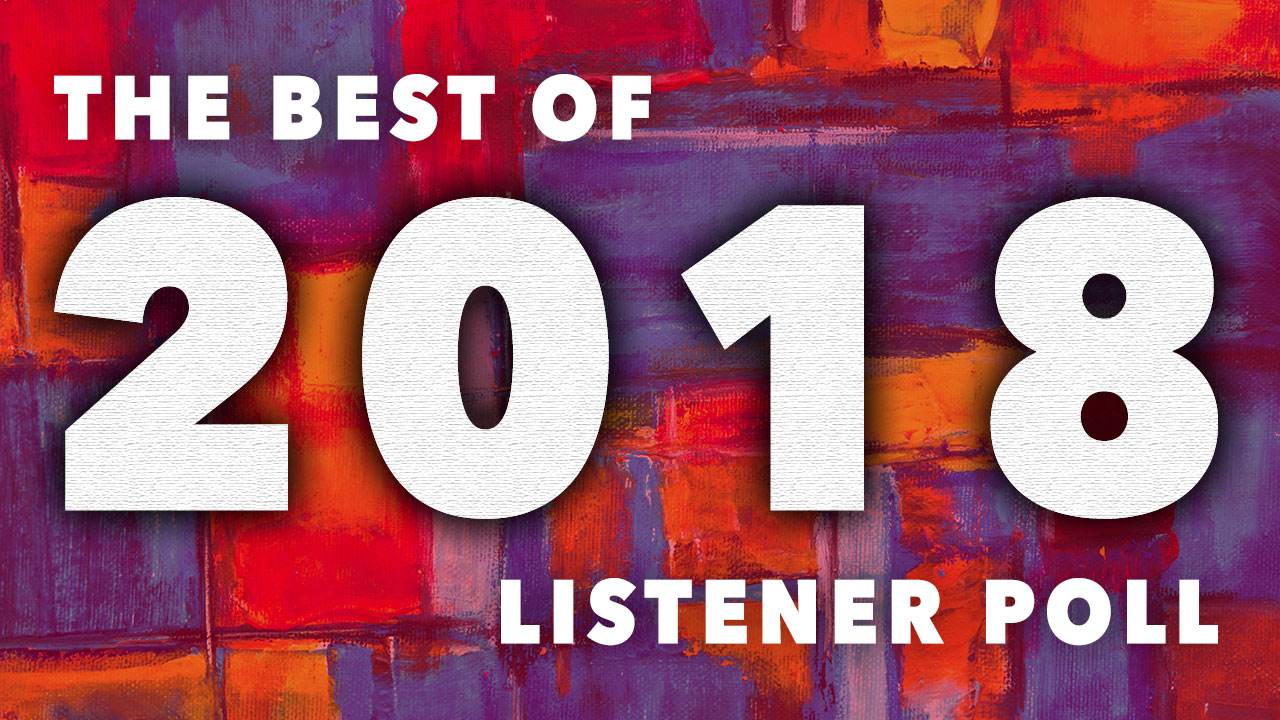 The top songs, albums and discoveries of the year, as chosen by you, the WFUV listeners!
See: Top 50 Albums | Top 90 Songs + Spotify Playlist | WFUV Staff Picks (new page)
Artist Discovery of the Year
Caroline Rose
Shannon Shaw
Snail Mail
Jade Bird
The War and Treaty
Top 50 Albums
Courtney Barnett, Tell Me How You Really Feel
Brandi Carlile, By The Way, I Forgive You
Neko Case, Hell-On
Leon Bridges, Good Thing
John Prine, The Tree of Forgiveness
Kurt Vile, Bottle It In
Janelle Monae, Dirty Computer
Elvis Costello, Look Now
The Decemberists, I'll Be Your Girl
Nathaniel Rateliff & The Night Sweats, Tearing at the Seams
Sunflower Bean, Twentytwo in Blue
Dawes, Passwords
Father John Misty, God's Favorite Customer
Lake Street Drive, Free Yourself Up
Death Cab For Cutie, Thank You For Today
Caroline Rose, LONER
Mitski, Be the Cowboy
Boygenius, Boygenius EP
Phosphorescent, C'est La Vie
Big Red Machine, Big Red Machine
The Record Company, All of This Life
Brian Fallon, Sleepwalkers
Paul McCartney, Egypt Station
Superorganism, Superorganism
Paul Simon, In The Blue Light
David Byrne, American Utopia
Glen Hansard, Between Two Shores
Middle Kids, Lost Friends
Shannon Shaw, Shannon in Nashville
Tom Petty, American Treasure
Belle & Sebastian, How to Solve Our Human Problems
Amanda Shires, To the Sunset
Cat Power, Wanderer
Richard Thompson, 13 Rivers
Tracey Thorn, Record
Amy Helm, This Too Shall Light
Natalie Prass, The Future and the Past
Kacey Musgraves, Golden Hour
Rayland Baxter, Wide Awake!
Rosanne Cash, She Remembers Everything
The Jayhawks, Back Roads and Abandoned Motels
Parquet Courts, Wide Awake!
Snail Mail, Lush
Amos Lee, My New Moon
Calexico, The Thread That Keeps Us
Jim James, Uniform Distortion
John Hiatt, The Eclipse Sessions
Jungle, For Ever
Angelique Kidjo, Remain In Light
Bruce Springsteen, Springsteen on Broadway
Top 90 Songs
Hozier, "Nina Cried Power"
Brandi Carlile, "The Joke"
Childish Gambino, "This is America"
Father John Misty, "Mr. Tillman"
Janelle Monae, "Make Me Feel"
Phosphorescent, "New Birth in New England"
Leon Bridges, "Beyond"
Sunflower Bean, "Twentytwo"
John Prine, "Summer's End"
Mitski, "Nobody"
Kurt Vile, "Loading Zones"
Lake Street Dive, "Good Kisser"
Caroline Rose, "Jeannie Becomes a Mom"
Jade Bird, "Lottery"
Rayland Baxter, "Casanova"
Sunflower Bean, "I Was a Fool"
Superorganism, "Everybody Wants to Be Famous"
Courtney Barnett, "Charity"
Cat Power, "Woman"
Courtney Barnett, "Nameless, Faceless"
Neko Case, "Bad Luck"
The Decemberists, "Severed"
Kamasi Washington, "Fists of Fury"
Low Cut Connie, "Beverly"
Middle Kids, "Mistake"
Elvis Costello, "Unwanted Number"
Leon Bridges, "Bad, Bad News"
David Byrne, "Everybody's Coming to My House"
Rosanne Cash, "Not Many Miles to Go"
Death Cab for Cutie, "Gold Rush"
Florence + The Machine, "Hunger"
Jade Bird, "Uh Huh"
Kacey Musgraves, "Slow Burn"
Lord Huron, "Wait By The River"
Arctic Monkeys, "Four Out of Five"
Christine and the Queens, "Girlfriend"
Nathaniel Rateliff & the Night Sweats, "You Worry Me"
Dawes, "Living in the Future"
Elle King, "Shame"
John Grant, "Love is Magic"
The Lemon Twigs, "Small Victories"
Amos Lee, "No More Darkness, No More Light"
Maggie Rogers, "Light On"
Neko Case, "Halls of Sarah"
Caroline Rose, "Soul No. 5"
Paul McCartney, "Come on to Me"
Snail Mail, "Heat Wave"
The Record Company, "Life to Fix"
The Decemberists, "Sucker's Prayer"
Aloe Blacc, "Brooklyn in the Summer"
Belle and Sebastian, "I'll Be Your Pilot"
Boygenius, "Bite The Hand"
Brandi Carlile, "The Mother"
Sylvan Esso, "PARAD(w/m)E"
Jealous of the Birds, "Plastic Skeletons"
Father John Misty, "Disappointing Diamonds are the Rarest of Them All"
The Jayhawks, "Everybody Knows"
Nathaniel Rateliff & the Night Sweats, "Hey Mama"
Jeff Tweedy, "Some Birds"
Jim James, "Throwback"
Rex Orange County, "Loving Is Easy"
John Prine, "When I Get to Heaven"
Kurt Vile, "Rollin With the Flow"
Leon Bridges, "If It Feels Good (Then it Must Be)"
Lucy Dacus, "Addictions"
Tracey Thorn, "Queen"
Neko Case, "Curse of the I-5 Corridor"
Ray LaMontagne, "Such a Simple Thing"
Natalie Prass, "Short Court Style"
Soccer Mommy, "Cool"
Nick Lowe, "Tokyo Bay"
Parquet Courts, "Wide Awake"
Your Smith, "The Spot"
Amanda Shires, "Leave it Alone"
Mumford & Sons, "Guiding Light"
Amy Helm, "This Too Shall Light"
Belly, "Shiny One"
Boygenius, "Me & My Dog"
Brian Fallon, "Forget Me Not"
Nathaniel Rateliff & the Night Sweats, "A Little Honey"
Tracey Thorn, "Sister"
Courtney Barnett, "Need a Little Time"
Erika Wennerstrom, "Extraordinary Love"
Emily King, "Remind Me"
Angelique Kidjo, "Once in a Lifetime"
First Aid Kit, "It's a Shame"
Big Red Machine, "Hymnostic"
Glen Hansard, "Roll on Slow"
Hippo Campus, "Bambi"
Calexico, "End of the World With You"
Top 90 Songs of 2018: Spotify Playlist
See: Top 5 Artist Discoveries | Top 50 Albums | Top 90 Songs | WFUV Staff Picks