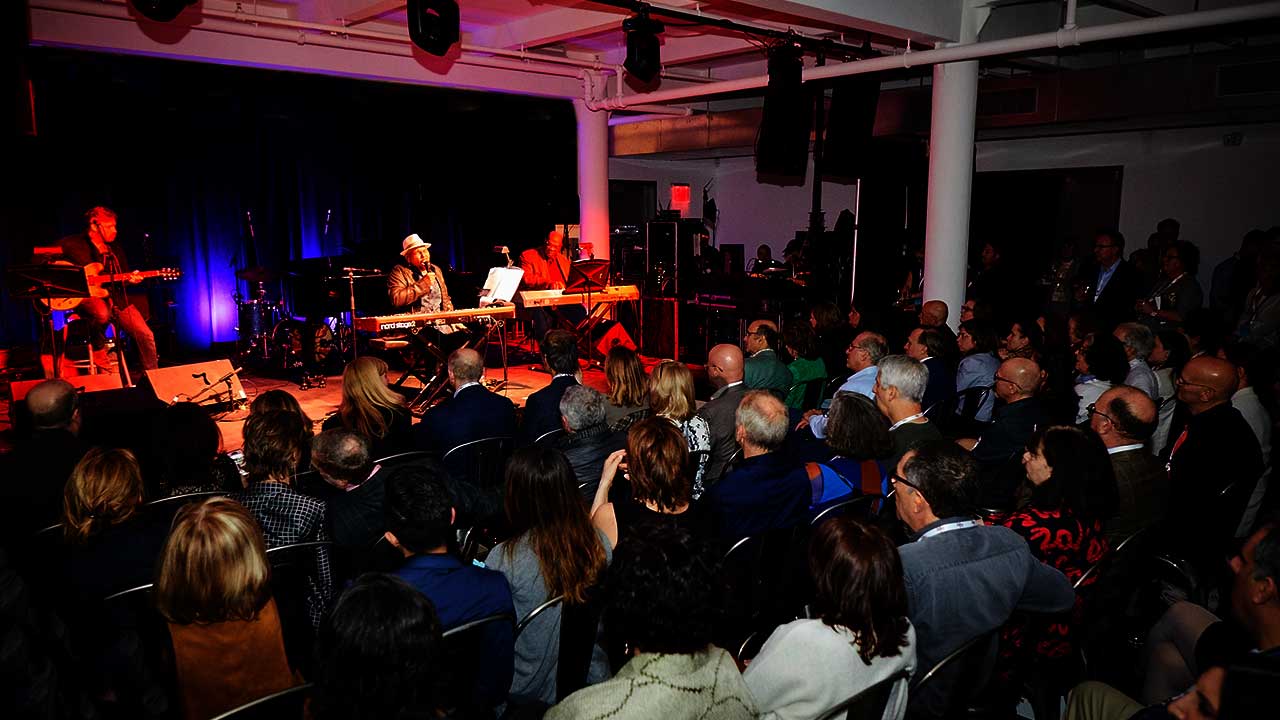 The WFUV High Line Bash on May 12 was the second edition of this annual benefit for FUV, and it again displayed one of the best parts of music: it brings people together. The gathering, first and foremost, takes place to help strengthen WFUV; to see our supportive community in person – and to see it growing – is truly heartening. In the setting of Milk Studios with live music across three stages and plenty of food, drink and camaraderie throughout, it's also a lot of fun.
Longtime friend of FUV and member of our local music community, Joseph Arthur, not only donated one of his original paintings to the Rockin' Silent Auction, he opened the evening's performances on Studio D's main stage. His solo, acoustic set included a few "new, old songs" which will be part of a 15th anniversary reissue of his breakthrough album, Redemption's Son.
Down the hall in Studio C, with the title of her latest album, Highway Queen, inlayed on her fretboard, Nikki Lane and her killer band brought some country flair, honoring genre's classic sounds with a vintage voice and a side of driving rock. Bash-goers could then segue from a Nashville outlaw to a New Orleans legend with headliner Aaron Neville and his guitar/keyboard trio back on the main stage. With a gentle beat and the reassuringly familiar words of "Stand By Me," Neville took subtle command with that one-and-only voice, inviting a riveted crowd to clap along ("All By Myself"), ache ("Ain't No Sunshine") and swoon ("This Magic Moment"). Sweeter than wine indeed.
Back in Studio C, one of rock's great poets, Craig Finn, turned up the volume. His visceral storytelling thrives in front of a band, and it was The Uptown Controllers who joined Finn to power through a set of material from his latest solo album, We All Want The Same Things. Physicality was center stage for the evening's closing performance too, with jazz collective The Hot Sardines as always including a tap dancer in their eight-member line-up. Led by Evan Palazzo at the piano, this New York City band breathes new life into old sounds, letting the languages of English, French and music speak across generations. Between the searing horn solos and languid verses of "Summertime" and the rollicking set closer "Bei Mir Bist du Schoen," singer "Miz Elizabeth" Bougerol was equally vocal in her gratitude for WFUV's support of "people who aren't doing the usual thing," and encouraging the crowd to "support independent radio."
Guests also added their own voices to the music of the evening as Joe McGinty's Superstar Piano Bar held karaoke court in Studio B, culminating with a lucky high bidder winning the chance to sing "All of Me" with Miz Elizabeth (well done, Kevin), and the enthusiastic final singalong of "Sweet Caroline."
We'll skip the refrain here, but it's safe to say that "good times" were had. See photos galore on the WFUV Flickr stream. We also used #FUVBash on Twitter and Instagram, and there's a Facebook Photo Album.
Thanks to everyone who attended in support of FUV, and to all who made this year's Bash such a success, especially:
Photographers Gus Philippas, Neil Swanson and Chris Taggert
WFUV DJs, Staff, Advisory Board, Members