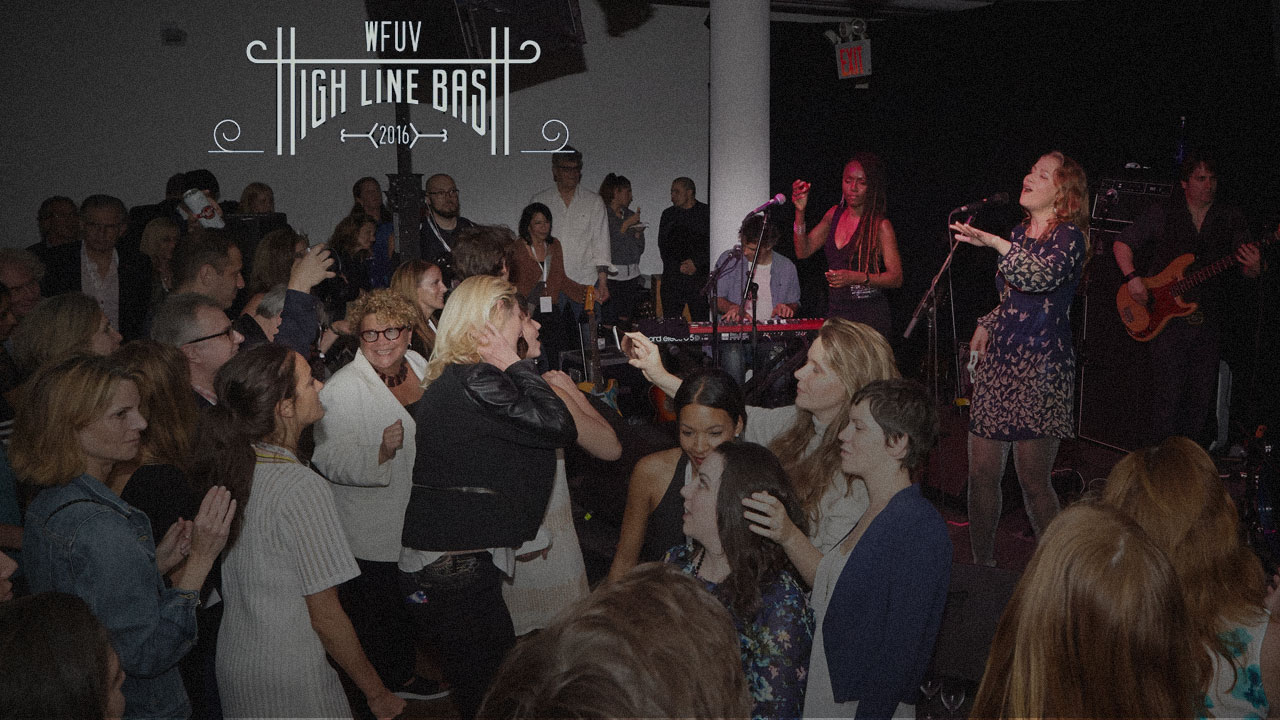 Our first WFUV High Line Bash on May 13 was a sold-out success with a crowd of 600 music fans treated to an evening that spanned party, festival, and feast. As event co-chair and headliner Joan Osborne commented during her set, there is a "symbiotic relationship" (and a whole lot of love) between audience, artist and WFUV, and Friday night at Milk Studios became a true gathering. It also lived and breathed music discovery with four studio spaces in action all night.
World class musicians (and people) David Wax Museum kicked off the live performances with a sizzling set that featured songs from their new album, Guesthouse, as well as their breakthrough FUV favorite, "Born With a Broken Heart." Down the hall as the sun set over the High Line, New York City's own Sunflower Bean held nothing back, unleashing a performance that was both melodic and psychedelic with just the right touch of rock attitude. Seattle five-piece Hey Marseilles impressed a packed room, adding cello and viola to the mix and rocking out with style, sweat and a stirring version of David Bowie's "Heroes." New father G. Love injected a healthy dose of rhythm, groove and roots to the evening, delivering the "special sauce" solo on acoustic guitar and harmonica, and driving home the blues with his signature laid-back swagger.
Swagger, heart, soul and, of course, that defining voice were all in play when Joan Osborne and her band took the stage for a hip-shaking closing performance, which included a custom call-and-response "I love WFUV" song, fan favorites including set closer "One of Us," and the premiere of a brand new Mavis Staples-inspired anthem that asked, "Won't you join us now and sing along?" The crowd happily obliged.
More than a few brave souls also let their voices be heard throughout the evening in some piano bar karaoke, masterfully hosted by Joe McGinty. You might have even seen Joseph Arthur tackle Radiohead's "Creep" with Rita Houston, Hey Marseilles frontman Matt Bishop dramatically belting out Cyndi Lauper's "Time After Time," and a lucky (and generous) FUV donor who won the chance to be Elton John to Joan Osborne's Kiki Dee on "Don't Go Breaking My Heart" (Go Kevin!).
Overall, the Bash was a blast. Thanks to all who braved the rain and traffic to come out and support and celebrate FUV. The energy you brought will be channeled right back into the station, and will make next year's Bash even better.
You can find a lively gallery of of great photos from the night on the WFUV Flickr stream.
And huge, we-couldn't-have-done-it-without-you thanks to:
Photographers Gus Philippas, Neil Swanson and Chris Taggert
Team FUV: DJs, Staff, Advisory Board, Members