Breaking Bands 2013: TAS Staff Picks This Year's New Faces To Watch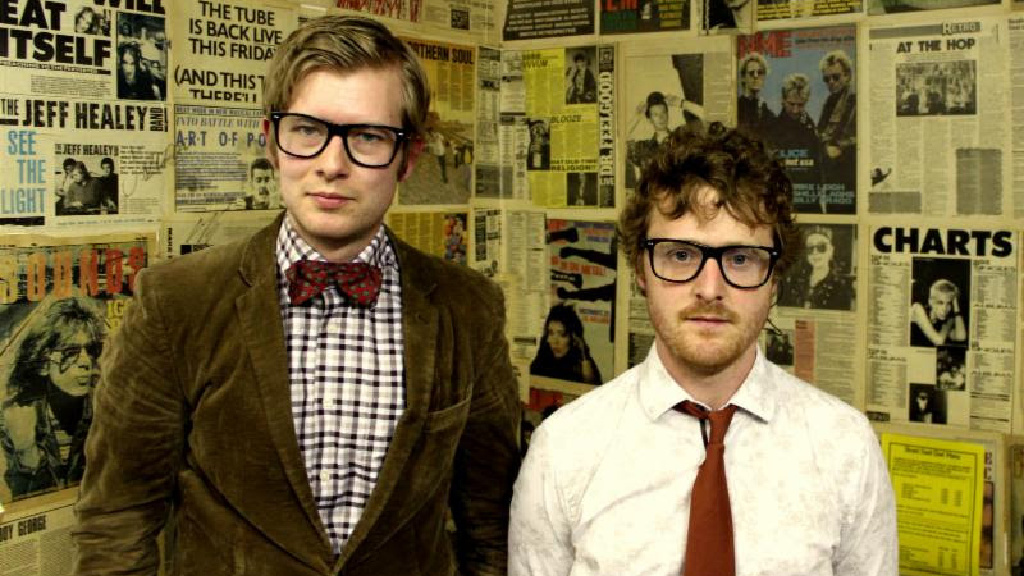 As The Alternate Side staff sifts through EPs and singles on a daily basis, discovering up-and-coming bands — especially those without a debut album yet —  there are always a few that we find ourselves championing tirelessly to anyone who'll listen to us.
It's difficult to ascertain the chance of a new name breaking a big way, despite the hype of blog love or tastemaking lists like the BBC Sound of 2013, but the bands and artists we'd like to take over the world this year include Chvrches, Savages, AlunaGeorge, Public Service Broadcasting, Hunters, Pins, Angel Haze, Guards, Fidlar, Milk & Biscuits and Indians. The bands we love — and why — are below:
Russ Borris (TAS/WFUV Host, WFUV's Assistant Music Director)
2012 Picks: Guineafowl, Hospitality, Alabama Shakes

Guards
Led by Richie Follin (brother of Cults' singer Madeline Follin), this Brooklyn band will release their full-length debut, In Guards We Trust, on February 5. Catchy, well-crafted songs that sound well produced without sounding overproduced.
Robert DeLong
Armed with a drum set, drum pads, keyboards, laptops and video controllers, Robert DeLong has made one of the catchiest songs I've heard in a while: "Global Concepts" certainly warrants serious attention. Look for his debut album Just Movement in January.
Savages
Hailing from London, this all-female, post-punk pop band absolutely shreds on this song called "Husbands." There's a fierceness to it mixed with a Joy Division and Siouxsie and The Banshees vibe. Oh, and a little "Holiday in Cambodia," too. Really impressive.
Alisa Ali (TAS Host, WFUV Producer and On-Air Interviewer)
2012 Picks: Alabama Shakes, Tony Castles, 2:54
Chvrches
Great Scots! I am really looking forward to hearing more from this Glasgow trio. The two songs I've heard so far, "The Mother We Share" and "Lies," are serious ear candy, much like the first Passion Pit album (Chvrches toured with Passion Pit), although Chvrches have a more electronic feel to them, like The Knife. They will be releasing a full length in 2013; no date yet announced. In the meantime, check out their impressive debut gig at the Art School in Glasgow from this past July where they played "Lies."
[video:http://www.youtube.com/watch?v=kFcsz1fJwf8&feature=player_embedded#!]
Dan Croll
Dan Croll is the English Reeses Peanut Butter Cup of new music. He's got his folk songwriter songs embedded in electronic grooves and, much like the peanut butter chocolate combo, it's a winning creation. His debut album will come out in 2013, but his EP is out now. You've probably already heard us playing his current single, "From Nowhere," on The Alternate Side, but in case you missed it, listen below.
Fidlar
For "Cheap Bear" and good times, Fidlar are the L.A. punks for you.  I can't play "Cheap Beer" on the show (there's a cuss word), so you'll have to follow the link to hear that song. They've got a couple of singles out now, but they'll release a full-length debut on Mom + Pop Records on January 22. Check out their vintage Creedence-flavored video for the song, "Gimme Something"
Eric Holland (TAS Weekend Host, WFUV Host)
2012 Picks: 13 Ghosts, Air Review, Zambri

Outernational
I'm looking forward to Outernational's debut album which is due in 2013. They are an overtly political band in the spirit of The Clash who Tom Morello has worked with as a producer.
[video:http://www.youtube.com/watch?v=KUP8-3OZm4s]
Hunters
I saw Hunters open up for METZ at the Mercury Lounge not long ago and they knocked me out with their Stooge-y energy. Former Smashing Pumpkin James Iha is producing their debut.
Angel Haze
Angel Haze has the 'tude and the flow to demand attention.
Kara Manning (TAS Content Editor/Writer, Substitute Host, WFUV/TAS On-Air Interviewer)
2012 Picks: Daughter, Lucy Rose, Friends, The 2 Bears
Public Service Broadcasting
J. Willgoose Esq. and Wrigglesworth might sound as if they belong in a P.G. Wodehouse novel, but the pair, who call themselves Public Service Broadcasting, are actually a London electronic duo. They cleverly marry vintage public information films and documentary footage, much found at the British Film Institute, with criss-crossing threads of krautrock, dance rock and synth pop, like the precocious children of Lemon Jelly and Neu! Singles like the dazzling "Spitfire," from The War Room EP, and the kaleidoscopic "ROYGBIV" are beautifully produced, often emotionally stirring and their accompanying videos, like "Everest" below, visually arresting. Public Service Broadcasting will release its debut album, Inform-Educate-Entertain, this spring and will launch a lengthy UK tour in May.

Fiction
Yes, the London quartet Fiction might indulge into some retro-'80s flourishes — there's elements of Orange Juice, Echo & the Bunnymen, ABC, the English Beat and Talking Heads skittering about their music — but they do it with such aplomb that it works perfectly. Their cheeky single "Careful" was one of my favorites of 2012 and Fiction will release their new single, "Museum" (below) and their debut album, The Big Other, on March 4 on Moshi Moshi.

Milk & Biscuits
Is it possible to develop a loopy band crush over just one single? Yes it is. Last month, Brighton "supergroup" Milk & Biscuits — founded by Matthew Davies and Max Erle —  released a fetching and completely addictive single, "White Noise," which takes an inspired, left-of-center, punked-out poetic detour near the song's end. Milk & Biscuits, which released its first EP Balcony Times in 2011, is readying a debut album, Spirit Nap, this year on Big Salad Records, but fans of Belle & Sebastian and the exquisite pairing of Pastels/Tenniscoats might want to look these scrappy and sweet-sounding Brits up immediately.
[video:http://www.youtube.com/watch?v=4-78w-Ppdx4]  
Pins
Manchester's explosive, eerie but oddly nonchalent Pins set off their singles, like "Eleventh Hour," "Say To Me," and  the title track of their new EP, "Luvu4lyf," like slow-burning fuses on a series of time bombs. They sound like they don't give a damn (they do), their sinewy songs dawdle and seethe, and they they probably belong in Williamsburg, but the fact that they don't, brooding fitfully in the same city that gave birth to Joy Division and A Certain Ratio, makes this all-female quartet even more fascinating.
Sarah Wardrop (TAS Substitute Host, WFUV Assistant Program Director, WFUV Music Weekend Host)
2012 Picks: Alabama Shakes, Gary Clark, Jr., The Cold and Lovely
Hilly Eye
Amy Klein left Titus Andronicus in 2011 to try out some new creative adventures, and to say the least, she's kept busy. Writing and the band Leda are two projects, and another is a duo with drummer Catherine Tung, called Hilly Eye. They're set to release their debut, Reasons to Live, on January 22, and the single "Amnesia" previews the raw delicacy and distortion to come.
[video:http://www.youtube.com/watch?v=pLIUBkuTkcI]
AlunaGeorge
The UK duo of Aluna Francis and George Reid released the EP You Know You Like It earlier this year, and its title track was one of my favorites of 2012. Now they've come in at No. 2 for the BBC Sound of 2013 award in anticipation of their full-length, debut album. I guess I'm not the only one looking forward to it.
Indians
I first heard the hard-to-Google Indians (a.k.a. Copenhagen's Søren Løkke Juul) ahead of our CMJ Showcase at The Living Room. The title of the song "I Am Haunted" pretty much sums up my reaction to his sound, which manages to merge expansive dreaminess and intimacy. Look for Indians' debut album, Somewhere Else, out on January 29. [video:http://www.youtube.com/watch?v=WZhvxpIXy78]