The WFUV Student Experience
WFUV is an NPR affiliate station, not only highly regarded for its eclectic music mix and award-winning news and sports programming, but also for its unparalleled student training program.
We offer opportunities in a wide range of areas:
News & Public Affairs - WFUV's newsroom is a training ground for aspiring media professionals. We focus on the fundamentals of audio news reporting, as well as other storytelling platforms. Young journalists will cover spot news reporting and learn how to gather sound, write for the ear, interview sources and how to train their voices for hosting . As their skills develop they will focus on "NPR style" longer form, narrative, in depth, audio-rich stories. Fordham students who join the newsroom will also help with WFUV's "What's What" daily news podcast. Young journalists will learn to serve as hosts, reporters, directors and editors to produce news stories, public affairs features, social media content and eventually video segments for the podcast.
Sports - WFUV Sports is where passionate young minds go to discover what they can become in the field. The program is a training ground for communicators, storytellers, innovators and leaders. In addition to being the flagship station for Fordham athletics, WFUV Sports is also the home of "New York's Longest-Running Sports Call-In Show" – One on One. The three-hour, live talk show airs every Saturday and features original commentary, special interviews and in-depth reporting. WFUV students also work in the field as beat reporters on the coverage of professional games. WFUV is credentialed media for all the major pro teams in New York City. The department offers a complete training program, from audio and video production to on-air hosting and more. Students take part in workshops with professionals in the industry, many of which are notable Fordham and WFUV alums.
Live Music Audio Production - Student audio engineers are responsible for the mixing and post-production of live in-studio music performances as well as assisting with off-site concerts and other in-studio broadcast operations as needed.
Live Music Video Production - Student videographers are responsible for the shooting and editing of live in-studio music performances and off-site concerts. See the WFUV YouTube channel for examples.
Broadcast Engineering and Operations - Student broadcast engineers are responsible for the technical operation and maintenance of the radio station.
Music - The Music Manager provides wide ranging support in the WFUV Music Department. Responsibilities include creating prep materials for DJs about new music, organizing incoming mail, integrating new music into the media library, reporting airplay to trades, and working to maintain WFUV's profile in the music community.
Ceol na nGael - Student Hosts present Ceol na nGael on-air each Sunday afternoon from 12-4. Responsibilities include creating weekly playlists, engineering the show, conducting interviews with artists, and editing pre-recorded shows when necessary.
Student Production Assistants support hosts in all aspects of weekly broadcast. Responsibilities include management of music library, correspondence with listeners, and drafting of community announcements.
Promotions - The Promotions Department is responsible for increasing awareness of WFUV and managing giveaways to our listeners. Students manage every part of the process from building web pages, to pulling winners and communicating with the venues and ticket winners. Promotions also supports WFUV members by offering them tickets to shows, discounts at area businesses (through the WFUV MemberCard partner program), and keeping them informed about area concerts through the WFUV Events Calendar.
Underwriting - Underwriting Associates assist the department in many aspects of the sales process, including: pulling research and developing materials (presentations and newsletters) to tell our story to prospective advertisers, posting to socials and tracking audience numbers (on-ar, online and through the stream), learning how to prospect, pulling audio clips & cataloging them and competitive tracking. Along the way we give them the hows and why's of what they're doing.
Administrative Services
The goal of the WFUV student experience is to provide participants with opportunities to get real-world practical experience in public media.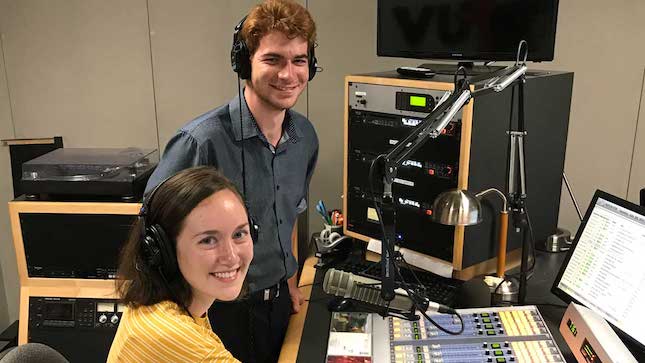 STUDENT EMPLOYMENT
WFUV typically has some open positions for students, primarily in the areas of Music, Promotions, Underwriting and Administrative Services. Positions are typically more readily available at the start of the academic year. Paid student positions at WFUV are geared toward individuals interested in a longer-term commitment. We encourage students to maintain involvement with WFUV throughout their academic career to gain as much skill and experience as possible for future success.
In order to be eligible for positions at WFUV you MUST be enrolled at Fordham University. Most student positions are limited to 10 hours per week during the academic year and 28 hours per week during the summer program.  Priority for paid positions is given to Federal Work Study Program recipients and we strongly encourage you to see if you qualify for the program.
To apply for a position at WFUV, please submit a WFUV Student Job Application.
After you apply, we will be in touch with you as positions become available.  Please note, due to high demand, we will not be able to respond to everyone who applies.
TRAINING WORKSHOPS
WFUV also offers some training workshops during the academic year. The goal of each workshop is to provide you with the necessary skills to continue your WFUV career, as an employee in that particular department.  However, participation in these workshops does not guarantee future employment.  Fall 2022 training workshops will be offered in the following areas:
News & Public Affairs
Sports
Live Music Video Production
Live Music Audio Production
Broadcast Engineering and Operations
The deadline to apply for Fall 2022 Workshops has passed.