Party Rental Company Redirects Tents For Coronavirus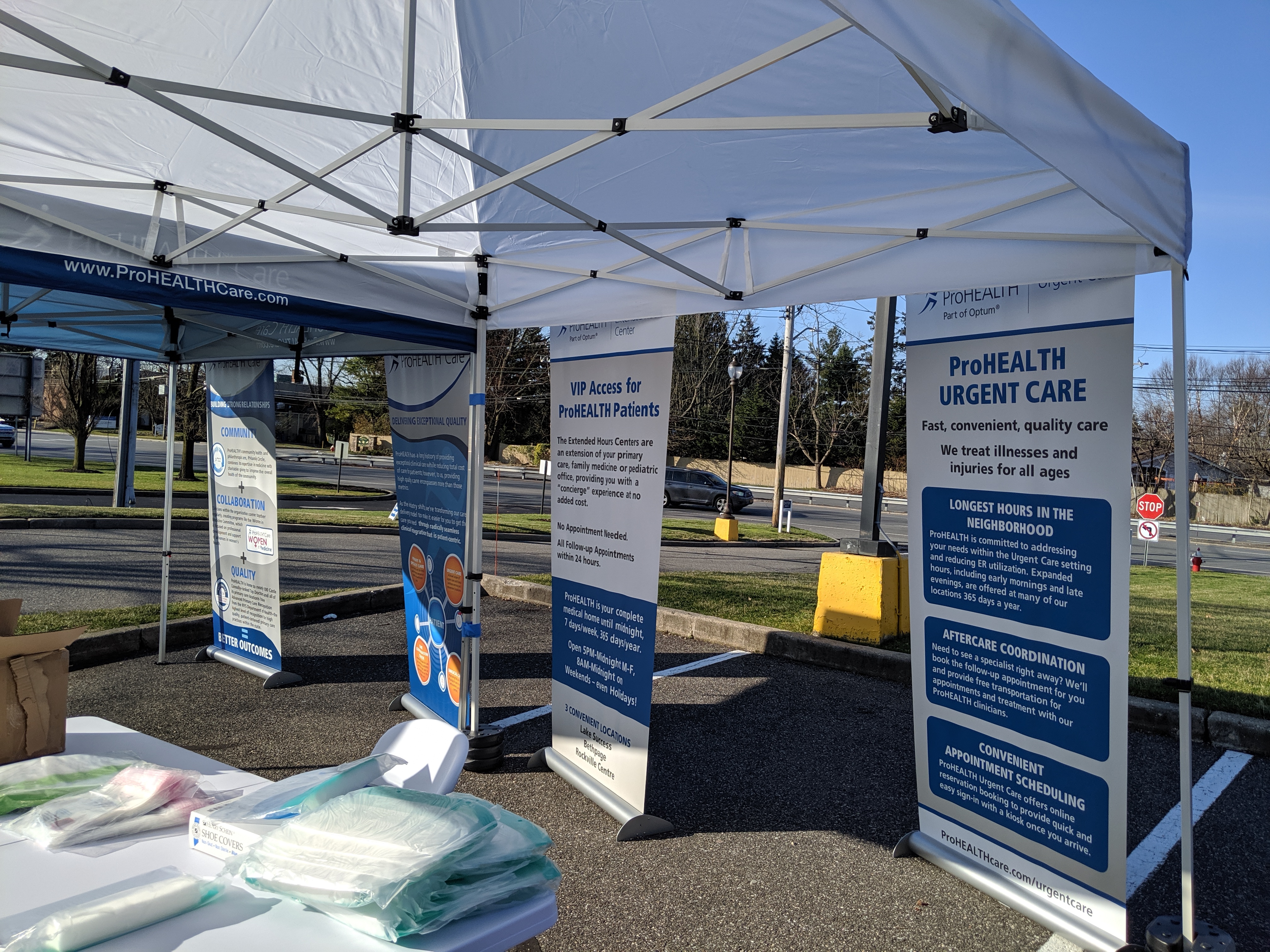 How people come together and celebrate has been completely altered in the midst of the coronavirus pandemic. Weddings have been canceled and parties of any sort have been put on hold – or pause as New York Governor Andrew Cuomo would call it. Gatherings of more than ten people are banned and President Trump extended social distancing guidelines until at least the end of April. People have lost money in all realms of this crisis and some are not sure when or if their lives will return to normal.
Anthony Labadie owns A&R Party Rentals and isn't sure when or if business will pick up after the pandemic. This past winter had been one of his busiest in the history of his company, but spring time is when customers typically start regularly throwing functions under tents. Labadie worries people won't want to be in big crowds at all.
"There's really not much to do. We're not trying to solicit work, obviously," Labadie said, "I think it's going to be three months before people even want to venture out and be with people."
Labadie has been checking in with his employees and customers during this time with the hopes that everyone can get past the unknown. According to a CUNY study, three in 10 New Yorkers have lost their jobs as a result of the coronavirus, that's 29 percent. Labadie has spoken to several people whose spouses and friends have lost their main source of income.
While Labadie's main source of income is compromised, he's finding ways to put his tents to good use.  
All but four of Labadie's tents are in storage. He has partnered with Pro-Health Care on Long Island to set up large tents at their coronavirus testing sites. Labadie said he's charging the medical institution one day's worth of services for as long as they need it.
"We go to monitor the tents to make sure the straps are tight, the walls are hanging, and the structure is a-okay, because when you leave tents up for a long period of time they're not permanent structures so you got to constantly maintain them."
The tents have been up for three weeks and Labadie often interacts with medical professionals on the front lines when he does his rounds. His sixteen year old daughter, Kaitlin, is a skilled baker and sends him with treats to thank those on the front lines.
"You can't see their smiles but you can see it in their eyes, so it feels good to do a little bit of help, because there's not much we can do to be there to support them," Labadie said.
That couldn't be more true for Elizabeth Bigos, who is a Chief Nursing Officer working under Pro-Health Care's tents across Long Island. She has been a registered nurse since 2008, and has seen at least 100 coronavirus patients a day during her 12 plus hour shifts.
She hasn't taken a day off in more than a month, but has received positivity throughout her community.
"People have gone above and beyond," Bigos said when she talked about the food people have sent to testing sites and the clapping that happens in her neighborhood, Long Beach, every night at 7pm.
Bigos asks anyone who has access to PPE -- gloves, N95 masks, etc. -- to donate them to local healthcare facilities, "If you're a sewer and that's something you enjoy to do, if you want to make masks, all of those things are incredibly uplifting and would be well received."
Even though the days are long and her personal life has been impacted by the coronavirus, Bigos is thankful for FaceTime with family and friends. She is especially grateful working with her colleagues, who have approached the pandemic as a unified team.
Anthony Labadie enjoys interacting with medical professionals because it shows him a different perspective, "All we see is what's on TV."
Labadie has been careful with his interactions on the front lines, because his wife, Cari, is immunocompromised. She has Type 1 Diabetes and has one lung. He checks on the tents wearing masks and gloves and he changes his clothes in the garage. He had been tested for COVID19 and the results came back negative.
But now they're awaiting Cari's results since she had chest pains over the weekend. Labadie took his wife to Huntington Hospital where they took her inside to test for coronavirus and to conduct an EKG while he waited in the car.
Labadie said tenting is typically quiet this time of year with only a couple of parties throughout the weekend, but he's nervous as the summer months grow near. He's hoping he has enough money set aside to keep food on the table for the next four months.
"Everybody's in the same boat and there are people a lot worse off than I am," Labadie said, "You take it day by day."