NYC Exhibition Explores Folk Music Revival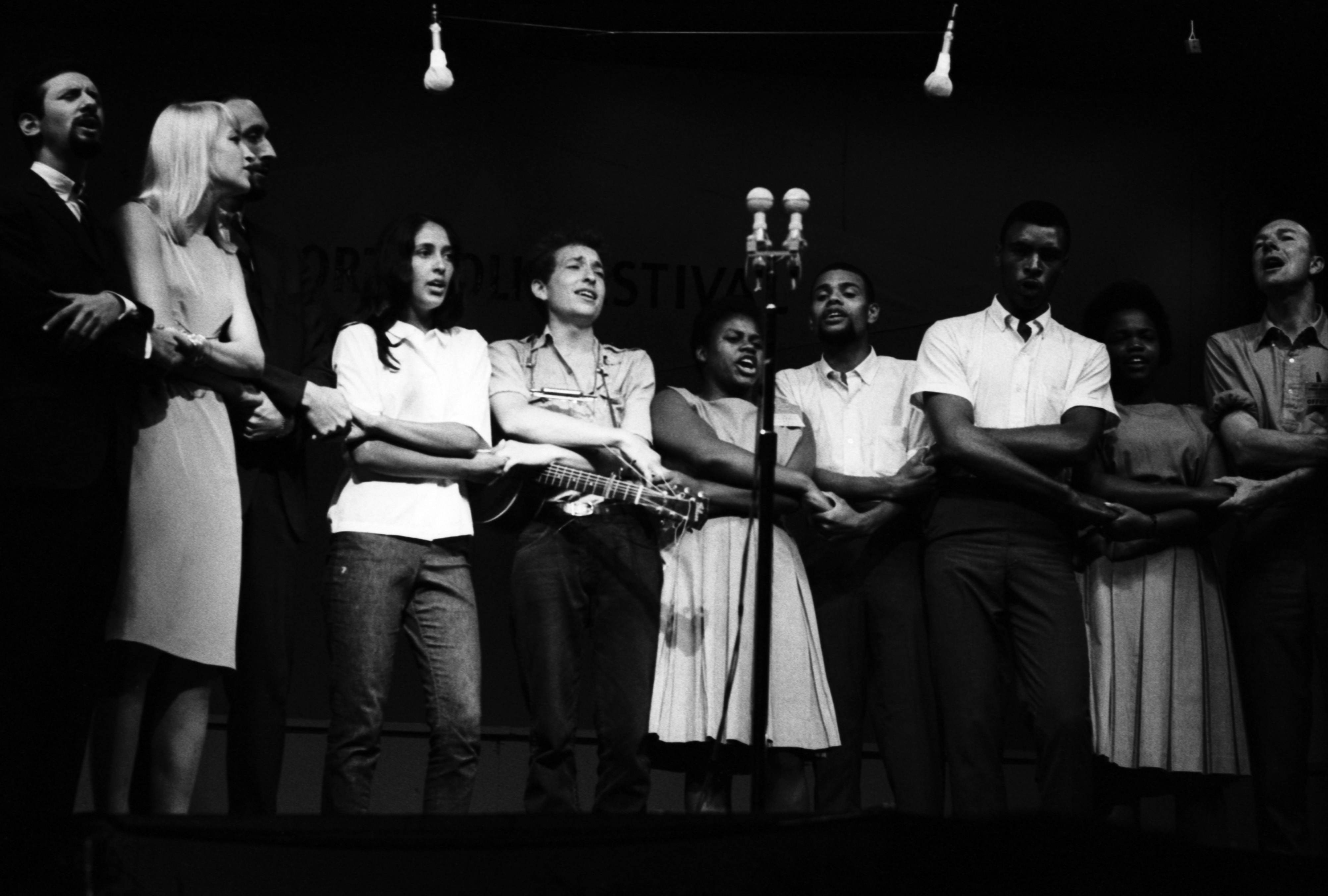 The Museum of the City of New York is launching a multimedia exhibition Wednesday that illustrates New York City's importance in the American folk music revival of the 20th century. 
"
Folk City
" curator Stephen Petrus says the exhibition explores why New York became the epicenter of the folk music revival, particularly during its peak in the 1950's and '60's.
"In trying to answer that question, we're looking at the importance of venues in the city, the business side of the folk music industry, some of the key figures who came [to New York] from different parts of the nation..." Petrus said.
Key figures like music legends Lead Belly, Pete Seeger and Bob Dylan. Petrus says some exhibit highlights include a Lead Belly guitar, a $500.00 check written by Fred Hellerman to Toshi Seeger to bail her husband Pete out of jail when he was convicted of contempt of Congress in 1961 and some of Dylan's handwritten lyrics.
"When I was holding [Dylan's] songs in protected plastic I was basically shivering," Petrus said. "For me, [they're] more than just songs but real important statements and documents of the time period itself that give us a window into the zeitgeist of the '60's."
Petrus says "Folk City" explores the political and cultural environment that helped shape the folk music revival during its peak.
"Folk songs explore every topic in life, whether it's love, death, marriage, sorrow, deprivation...in contrast to a lot of the pop songs in the late '50s like [The Coasters'] 'Charlie Brown He's a Clown,' 'Yakety Yak Don't Talk Back,' etc." Petrus said. "Folk songs were much deeper, and I think they're appealing to an audience at that time during the Kennedy era and the end of the Eisenhower era: middle-class, liberal people, somewhat idealistic, I would say at that time, really connecting to the music and nurturing political movements."
Petrus says "Folk City" also examines the roles key New York locations like Greenwich Village played in the folk scene during this period of political activism.  He says the exhibition  features some documentary footage from protests against the 1961 ban on folk singing in Washington Square Park.
"It's a chapter of New York City's history I think is really fascinating that not too many people know about, so we hope to fill in that gap and illuminate these important points about the backlash to folk music at that time," Petrus said.
Petrus says the folk music revival continued to leave its legacy on New York and across the nation even after the end of its peak in 1965.  He says particularly, there's a budding neo-folk movement in Brooklyn, but argues the spirit of the revival of the '50's and '60's could never really come alive in the New York of today.
"The city has become so expensive, we know this through gentrification and other trends, so the fact that, you, a young folk singer from Oklahoma or Florida, Texas, you name it, come to the city to try to test your mettle in smaller venues like the ones that were concentrated in Greenwich Village seems unlikely," Petrus said. "Although I don't want to be completely dismissive of it because there is Jalopy Theatre [in Red Hook], and other institutions which are sort of nurturing this, but not to the same extent."