Coney Island Mermaid Parade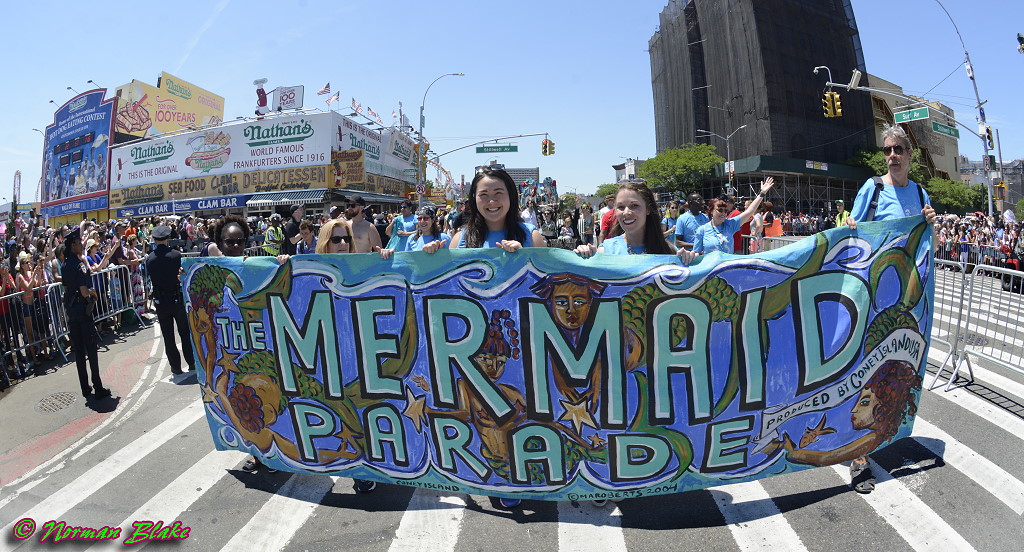 If you happen to be walking by Coney Island and sea merfolk a-pier, make sure to not clam up, they're probably from Coney Island's 40th annual Mermaid Parade. For many, the summer season doesn't begin until parade goers march down Surf avenue adorned in seaweed and shells. Adam Rinn, the artistic director of Coney Island USA and the fin-tastic parade, is a longtime participant, "What used to be a folkey, honky tonk parade has really grown into the nation's largest art parade. I remember stumbling across this as a teenger or something, and saying what is this, this is the most insane thing I've ever seen! It's these pirates, and mermaids and Neptunes marching down the street marching up on the boardwalk. When is this gonna happen again? It was sort of like the fisherman literally got the hook in me."
     Created in 1983, the Mermaid Parade began as a way to celebrate the summer solstice, while also fostering community pride and artistic expression. Since then, the parade has grown to include hundreds of thousands of attendees every year, hailing from all across the country. Rinn says after being canceled due to the pandemic, people are exploding with creative potential, "We know that all the participants have had 2 years to plan, they have this pent up creativity that they have been storing up, and it's really it's at a boiling point now, and at that parade on June 18th, that creativity is going to explode. I have a feeling we are gonna see things we have never seen because people need to do this."
     The parade was inspired by both Mardi Gras and pageants from the turn of the century. However, the theme is due to the street names that surround Coney Island, such as Mermaid Avenue and Neptune Avenue. While Coney Island USA organizes the event, it's the people who run the show entirely, "It's a participant driven parade. So it's really the people of the city & beyond who are the creative ones behind the costuming & the floats & the music, & everything they bring to this parade."
     The parade will also crown a Queen Mermaid and King Neptune, which are usually notable New York figures such as politicians, filmmakers, or community leaders. Since its creation, the Mermaid Parade has continuously been a staple of the New York community and beyond, bringing together a group of dedicated artists and dreamers, "Anyone who's watching the parade will see the biggest and best spectacle over the last 40 years, I promise you that. The Mermaid Parade is the best day in Coney Island, period. I can stop right there."
     You can swim by the Mermaid Parade June 18th at 1pm, in Coney Island.
Links: 
Image Gallery