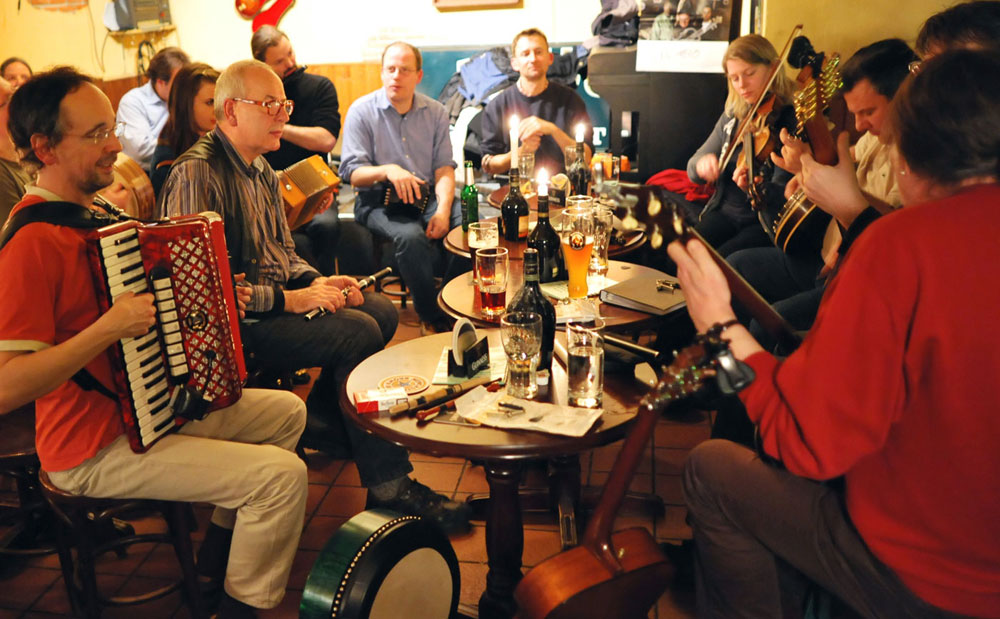 Music, news and sports from Ireland, Sundays from Noon-4pm.
The most popular Irish radio program in New York, Ceol na nGael ("Music of the Irish") began as the brainchild of two Fordham students, Gerry Murphy and Mary Maguire, back in 1974. Over the years it has continued to be hosted by students, who have kept the tradition alive.
Tune in to 90.7 FM every Sunday between 12 noon and 4pm to hear all kinds of Irish music, often accompanied by dedications, and to stay connected through the community bulletin boards. Two of the program's highlights are the weekly news from Ireland, with Louise Williams (formerly reported for years by Declan O'Byrne, may he rest in peace) at 2pm, and the sports from Ireland with Brendan Tier, immediately following.
Many of the Ceol na nGael hosts over the years continue to work in the media, long after they've graduated. The program was hosted in the mid-'80s by Patti Anne Brown, an anchor at Fox News Channel, and by Kathleen Biggins, a CBS Radio producer who is also the host of A Thousand Welcomes, WFUV's popular Saturday morning program of traditional Irish music. Mary Snow worked at both CNN and Al Jazeera, Marie Hickey is currently at Extra TV, and Mary Maguire worked at The Corporation for Public Broadcasting.
Maura Monahan and Maggie Dolan are the program's producers, working with the hosts on the music, booking interviews with figures in the Irish community, and developing new features.
Current Hosts: Maggie Peknic and Allie Small
Maggie Peknic is from Lynbrook, New York and has family roots in Counties Mayo and Galway. Starting at age four, Maggie danced with the Hagen-Kavanagh School of Irish Dance, which is run by her godmother, and which is also where Maggie's mother used to teach Irish Dancing. Since beginning at Fordham, Maggie has continued to dance with Slainte, the Fordham Irish Dance team, where she now serves on the Executive Board as the team Secretary.
Growing up as an Irish Dancer, Irish music has always been a part of Maggie's life. She was extremely eager to join the Ceol na nGael family and has enjoyed continuing to learn more about her Irish roots as well as expanding her knowledge of Irish music while working from the WFUV studios. "Ceol na nGael has enriched my Fordham experience, and I can't imagine spending my Sundays any other way!" says Peknic. Maggie looks forward to continuing the tradition of bringing great Irish music to the Ceol na nGael audience every Sunday afternoon.
Allie Small is from Livingston, New Jersey, and has family hailing from County Mayo and County Kerry. Allie began Irish dancing when she was just four years old. For the last decade she has competed for the Jennifer Lynn School of Irish Dance at the local, regional, and national level. Allie continues to dance at Fordham with Slainte, Fordham's Irish Dance team, and holds the position of Marketing Coordinator on the Executive Board of the team. Throughout her childhood Allie had the opportunity to visit Ireland a number of times to spend time with her family there and to travel the country. She looks back fondly on these experiences and recognizes how incredibly influential they were in fostering and expanding her love and appreciation of Irish culture.
Allie's love of Irish music was cultivated through her years as a dancer, as well as her passion for Irish culture. She is currently pursuing a minor in Irish studies at Fordham University and is thrilled to be able to join the WFUV family. "Ceol na nGael is such a unique experience and I am so grateful to have this opportunity during my time at Fordham! I have been listening to Ceol na nGael with my family since before I can remember, so I am extra excited to join the team," says Small.
Ceol na nGael Hosts (Present to Past):
Allie Small, 2022-
Maggie Peknic, 2020-2023
Patrick Breen, 2019-2022
Ryan Slattery, 2017-2020
Megan Townsend, 2015-2019
Shannon Spillane, 2014-2017
Megan Scully, 2012-2015
Tara Cuzzi, 2011-2014
Colleen Taylor, 2009-2012
Kerri Gallagher, 2009-2011
Kevin Quinn, 2007-2009
Ashling Colton, 2007-2009
Maura Monahan, 2005-2007
Maggie Dolan, 2004-2007
Liz Noonan, 2002-2005
Deirdre McGuinness, 2001-2004
Frank McCaughey, 1999-2002
Meaghan O'Rourke, 1998-2001
Jen Croke, 1996-1999
Deirdre Hogan, 1996-1998
Jean-Marie Woods, 1995-1996
Marianna McGillicuddy, 1993-1996
Eileen Fitzsimons, 1992-1995
Eileen Byrne, ___-1993
Michelle Gillan, 1989-1992
Mary Anne Grimes, ___-___
Eileen Duffy, ___-1989
Mike Donahue, ___-1989
Patty Ann Browne, 1985-1987
Kathleen Biggins, 1985-1987
Mary Snow, 1984?
Mary Fogarty, 1983-1985
Gerry Lavin, 1983-1985
Marie Hickey, 1980-1983
Ann Bowen, 1979-1981
Helen O'Donnell, 1979-1981
Helen Jonsen, 1978-1979
Peter Daly, ___-___
Mary Maguire, 1974-1978
Gerry Murphy, 1974-___
Irish musicians understand just how special Ceol na nGael is. According to singer Cathie Ryan, "Ceol na nGael reconnects us to our roots and reinforces our values as a community. There are millions of us in the tri-state area, but Ceol na nGael, with its music, news reports, and community bulletin boards, makes us a small village."
The origin story of Ceol na nGael as told by co-founder Mary Maguire: "Gerry proposed doing the show as part of the fundraising marathon the station did each January. At that time, in 1974, WFUV was only on the air from 4 p.m. to midnight, and they needed more programming for the week-long, 24-hour marathon. We planned to do one hour, and the phones exploded — it was the first FM, non-commercial Irish music show, and we segued from one song to another to keep the focus on the music. Listeners responded with hundreds of pledges. Several musicians stopped by. We stayed on the air for four hours until I had to go to my waitressing job. The program director said, 'You're coming back next week!' and Ceol na nGael was born."