Breaking the Silence: Wounds That Won't Heal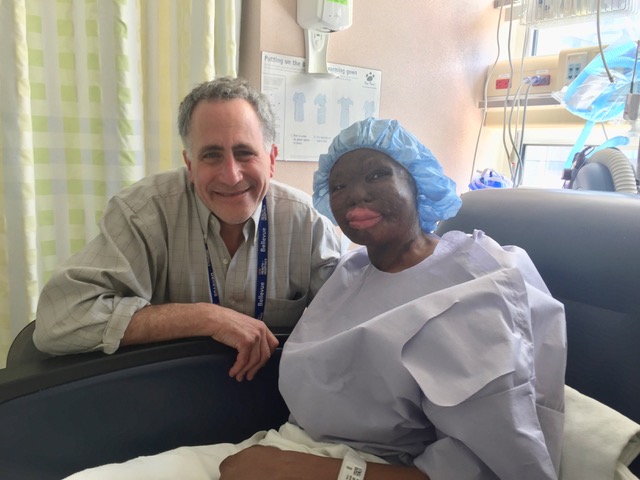 Her abuser in Haiti nearly killed her, now Hawa is worried she won't be able to save her children
Scrolling through old pictures on her phone, Bronx resident Hawa finds it hard not to get emotional.
Hawa asked that we not use her last name in writing for fear of legal repercussions. The old photos that's she's looking at on her phone were taken a little over a year ago, but she looks virtually unrecognizable now.
Everything changed the night her husband threw acid on her. Her face is covered in burn scars and her right ear is missing.  A small metal rod held up by scotch tape are in the place of where her nose used to be. Looking back on that night, Hawa said she thought she was going to die. 
"I didn't know I could make it but I'm here," She said. "My body as you can see is ruined. It's burned. I lose my nose. This nose was glued up. I lose my ears."
Hawa had to be taken from her home of Haiti and transferred to the U.S. for emergency medical care, 24 surgeries later, she said she's still struggling with how everything changed. However, she said her looks are the least of her problems.
Hawa has three kids ages 6, 8 and 11. They couldn't come with her to the U.S. The children are still with her husband, and she said knowing her children are still with her abuser is the worst thing in the world. 
"There's days that I can't even sleep. I can't sleep. I don't even know whether my kids know if I'm alive or not. What did [my husband] tell them, 'your mother is dead or she's alive.' I don't know," Hawa said.
Her husband abused her for several years before the night he poured acid on her. 
"If [Attorney General Jeff Sessions] can see my face or see my body, he will not make this decision," Hawa said. 
She is still waiting for a court date for her asylum hearing.
Dr. Ames is helping Hawa while she awaits her hearing, and said it would be inhumane to send Hawa back to Chad, Africa where she is from originally.   
"I mean really, she almost died, and I'm sure the intent was to kill her," Ames said. "I can't imagine even [Attorney General Jeff Sessions] would force her back."
In the announcement of the decision, Sessions said he wanted immigration judges to have a uniform policy. 
"Asylum was never meant to alleviate all problems, even all serious problems that people face everyday all over the world," Sessions said in front of immigration judges.
The attorney general stressed the Trump administration's zero-tolerance policy, and said that 80% of all asylum applications are without merit.
Dr. Elizabeth Ames said she's concerned Hawa might be sent back to her home country without ever getting an asylum hearing.
"Her asylum hearing hasn't even been announced yet," Ames said. "Some of these hearings take years to take place. Others happen rather quickly, and I don't know the rhyme or reason for why."
"Fighting a case in immigration court is like fighting a death penalty case in traffic court because the stakes are so high, but the court is so disorganized," Doroshow said. "It's chaos."
For Doroshow, Sessions ruling is simply a way to keep people from even trying to come to the U.S. in the first place. She argues survivors of domestic violence will continue to come to America and take the risk, especially if their life is in jeapordy.