FUV Live at Zankel Hall 2013-14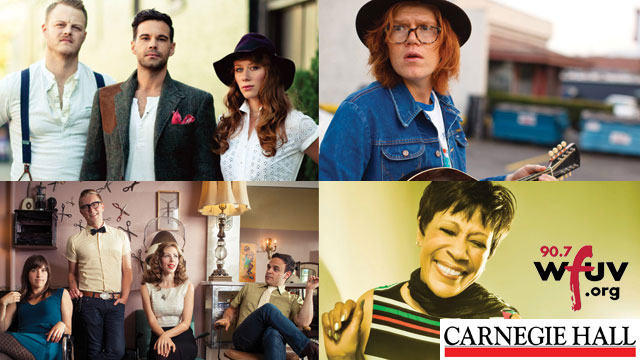 WFUV is once again so proud to partner with Carnegie Hall for our 9th season of curating a series of 4 shows each year celebrating music discovery, FUV-style.
Zankel Hall (downstairs at Carnegie) is one of New York's best venues for live performances.
Get your tickets now, these shows are sure to sell out.
The Lone Bellow
October 18, 2013
The Lone Bellow made their radio debut with WFUV in the fall of 2012. Their music is anchored in American folk, country, and gospel traditions, but the Brooklyn-based trio is more than a roots band. With songs that are introspective and inspiring, vocal harmonies that are crisp and clean, The Lone Bellow is one of a kind.
[Live Session in the FUV Vault] [Ticket Info]

Brett Dennen
November 2, 2013
After the overwhelming success of Loverboy, Brett Dennen retreated to his mountain house in Northern California, where he found inspiration in his surroundings and the simplicity of nature. The result is his fifth studio album, Smoke and Mirrors — the culmination of his transition from a coffeehouse folk singer to a celebrated and critically acclaimed front man. Dennen's earnest and honest lyrics, sweet melodies, and pure vocals make him a "folk-rock revelation" (The Washington Post).
[Live Session in the FUV Vault] [Ticket Info]
Lake Street Dive
February 7, 2014
Four Boston conservatory students met and started making magic – Their cover songs caught buzz, and their new original songs shine.
[Live Session in the FUV Vault] [Ticket Info]

Bettye LaVette
March 21, 2014
This R&B pioneer flew under the radar for far too long. Since 2006 she's enjoyed renewed fame for her incredible voice.
[Live Session in the FUV Vault] [Ticket Info]